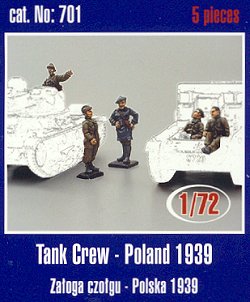 This is the first release in what I hope is going to be a long line of metal figure sets from Mirage. This company releases some of the best plastic vehicle kits on the market today, and these new figures are continuing that trend of fine products. The set includes five figures: two standing upright, two seated, and one 2/3 figure for placement in an open hatch. The standing figures measure about 24mm tall without their headgear, which makes them approximately 5' 8" (1.73 m) tall in 1/72nd scale.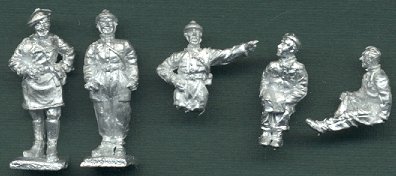 These figures are superb. The sculpting is first rate, especially the facial expressions. The fellow standing with the beret has a huge grin on his face, which is easily recognizable, even in this small scale. Body proportions are very good, with the exception of one of the seated figures (the one holding the map), whose legs look very short. Perhaps it would be best to seat him inside a hatch, as depicted on the box art.
Mirage has also released a set of US Tank Crew figures for their upcoming M3 medium tank series, and I anxiously await seeing those as well. These are outstanding figures, and I sincerely hope that Mirage continues the series, especially with Allied figures. If they wanted to continue with the Blitzkreig theme, 1940 French, Dutch, and Belgian AFV crews would be outstanding choices.
Here they are with a primer coat on them to better show the detail: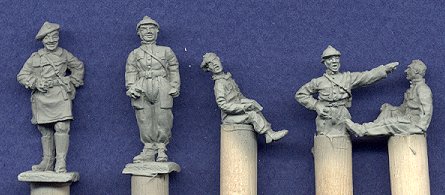 Thank you very much to Mirage Hobby for providing the review sample.