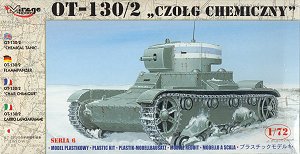 This is another kit in Mirage's series of T-26 light tanks, representing a flame-thrower version using the cylindrical BT-5 turret.
You will recognize many of the parts from their earlier 7Tp kits, specifically, the chassis, lower hull and tracks.
The following sprues show the new parts for this kit:
This kit is the same as other Mirage kits, in that the detail is wonderful, the engineering of the kit is well planned, the instructions are the best in the business, and the decals are very nicely printed. There are markings included for two Finnish tanks, captured during the 1939 Winter War, and there is an additional paint scheme included for an unmarked Soviet tank in the Far East, 1938.
Mirage is on a roll with superb models, and this kit continues that trend.
My sincere thanks to Chris Kowall for providing the review kit.