Second in the new line of metal figure sets from Mirage is this set of five US tank crew figures for the M3 Lee. The set includes three standing figures, one crouched, and one half-figure for placement in an open hatch. The standing figures measure about 23.5 to 24mm tall without their headgear, which makes them average 5' 7" (1.70 m) tall in 1/72nd scale.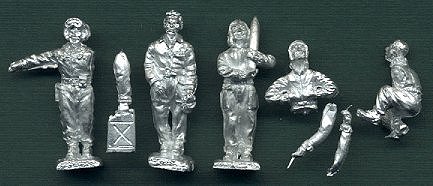 These figures are very good. The sculpting is excellent, with very distinct uniform details, and individualized facial expressions. Body proportions are very good, with the exception of the half-figure, whose torso seems very thin to me. Maybe he just needs a good meal. Two of the figures are wearing hoods on their jackets that I had not seen until recently. I believe that these represent a winter uniform option.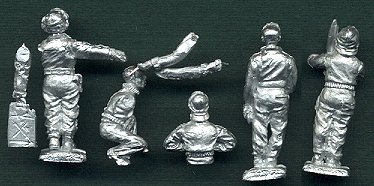 Here is a scan of the figures after they have been primed, to better show the detail: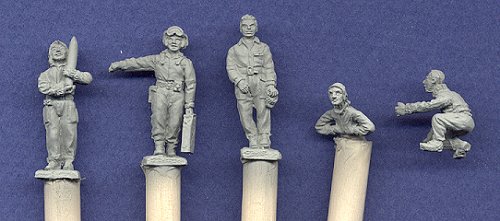 These are outstanding figures, and I sincerely hope that Mirage continues the series, especially with Allied figures. Perhaps some early war Soviet tank crew for their series of T-26 tanks?
Thank you very much to Mirage Hobby for providing the review sample.