In my 2003 Year in Review article, I gave this kit the accolade "Kit of The Year", so I figured that I best post a preview of it! I absolutely love this model. The quality of the moldings, the massive amount of detail (especially for a kit this small), the options, the fantastic instructions . . . it all adds up to be one of the most amazing models I've seen in 1/72nd scale.
Many of the parts are the same as their earlier 7Tp kits, specifically, the chassis and lower hull.
The following sprues show the new parts for this kit:
The interior is completely detailed, and the modeler has the choice of showing it off with open sides, or closing it with canvas siding. Many of the clear parts directly replace some of the gray styrene parts - window, frame and all - requiring us to mask off the window for painting. This will give a much more realistic appearance than inserting an overly-thick clear part into an open window, as in most kits.
The following sprue I believe is unique to this kit (#72891) and includes some rifles for internal stowage, and tow bars.
This is the first Mirage kit to include a small fret of photoetched brass parts. These parts are very nicely etched, and provide several details that will look much better replicated in brass as opposed to plastic.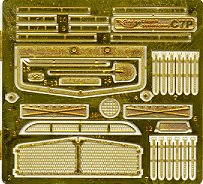 The decals in this kit are printed in the high standard this company set with their aircraft models, and gives us markings for six different vehicles, several of which have very unique paint schemes.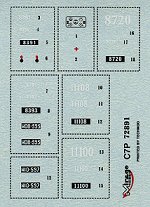 Once again, I would like to commend Mirage on their outstanding instructions. This is a highly complex kit, which could easily cause a modeler a lot of problems if the instructions were poorly done. Thankfully, Mirage gives us the best instructions in the industry with superb step-by-step assembly diagrams, vehicle background, and exceptionally detailed explanations of paint schemes, markings, and optional position parts.
Buy this kit, and you'll see why I feel that it is the Kit of The Year.