7TP Light Tank
Manufacturer: Mirage (Kit No. 72601 & 72602)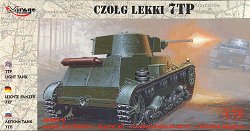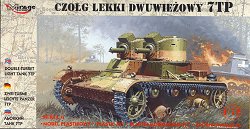 Look out Revell, you now have some serious competition ...

Sprue A contains the sprocket wheels, fenders, pioneer tools, wheel supsension units, and miscellaneous details. The sprocket wheels are amazingly detailed with superb bolt detail, and very fine, and in-scale sprocket teeth. The detail on everything is fantastic. Bolts are numerous, and everything is very well molded. There are some sink marks on the wheel suspensions, but they are easily accessible for fixing with putty.
This scan shows two wheel sprues, front and back, but only one comes with each kit. Like the sprockets, the idler wheels are very detailed. The road wheels are a little plain: just like the real items.
Lower hull and return rollers. Beautiful bolt detail everywhere. The return rollers are very well done. There are some sink holes behind the sprocket wheels, but will not be visible after the wheels are attached. If you wish to model a diorama with the wheels off, you'll need to fix those, but there is abundant detail also molded there, where it also will not be seen unless you leave off the wheels.

Sprue P (why P?) has the upper hull and most of the detail parts. As you can see, there are some parts unique to each version here, plus some optional parts. The 7TP (single turret) kit allows you to build early or late versions of the tank, with differing exhaust parts. All vertical plates are molded flat to allow for good bolt detail. Panel lines are recessed, and hatch handles are molded as separate parts, but they may be a little heavy, and should probably be replaced with bent wire. Storage boxes have separate lids so can be modeled open. Front driver's hatch is also molded open. Engine access hatches are molded shut, but with the flat parts layout, it should be easy to open them up if you wish to add an engine (not included).
This scan shows two turret sprues, but only one comes in each kit. The turret hatches are molded open, again with separate handles. They've even included the gun breaches, thereby providing some detail inside the turrets. This is the only part of the kits which lack bolt detail - around the turret sides. I guess they could have chosen to mold the curved sides of the turrets in two halves, but even then, it would be difficult to add the bolt detail to the curved surfaces. I guess this is a good place to add rivets from Archer Fine Transfer rivet sets.
The tracks are a very soft, stretchable, and flexible vinyl, very reminiscent of the old Matchbox tracks. As you all know, I normally despise this style of track, but given their flexibility, I have hopes that they will actually work quite well. I've been surprised before. They are also very well detailed, as you can see in the following scan: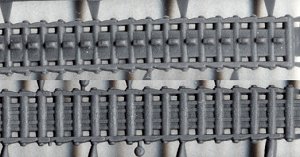 These tracks are definitely better than the tracks included with the Skif T-26 kits, and even better than the metal tracks in the Modelkrak resin kits. I hope that some day soon, PART will bless us with etched replacement tracks for the Vickers series of tanks. We now have around 20 [resin and/or plastic] kits which could benefit from tracks in etched brass.
Markings are included for any number of vehicles in each kit. The 7TP kit includes markings for two individual vehicles, plus a tank captured by the Germans. Likewise, there are two unit markings included in the Twin Turret kit. But the instructions state that most markings were removed by the time of the German invasion, so in theory you can model almost any tank you have references for. The decals are very thin, with a matte surface, and are sharply printed. The instructions are also some of the best printed, and most comprehensive guides I have seen in a model kit.
These are amazing kits, and I now regret not buying the two Vickers tanks when I had the chance. I sincerely hope that these sell well, so that Mirage will be encouraged to continue releasing fantastic models for us 1/72nd scale AFV builders.
---