T-34/85 NVA Type 63
Manufacturer: MW Models (Kit #7210)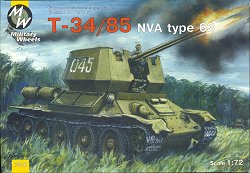 Following on the footsteps of the Tunguska, here's another unusual AA vehicle, this time, a North Vietnamese conversion of the T-34/85. The kit includes several sprues from the Eastern Express SU-/T-34 kits, but the majority of the parts used for this model are new.
These first three sprues are from Eastern Express. This kit uses the wheels, hull sides (with the axles), and the tracks.
The upper hull is completely new. It is very similar to the EE T-34 hull, but is a bit flatter. All engine hatches are closed, but the driver's view hatch is open. Lower hull is also very well detailed.
The turret has a fair amount of interior detail, but the walls are very thick. It is multi-faceted, and would be very time consuming to scratch build, but something needs to be done to thin them. Perhaps PART will make a brass set for us, replacing the entire turret.
The guns are very well detailed. The gun barrels are remarkably thin and in-scale. The gunner's seats are especially well done.

Decals are simple, and very thin.
I very much like this model, but will have to find some way to fix the thick turret walls.
---