Set 72C05/01, Churchill Mk VII Crocodile Conversion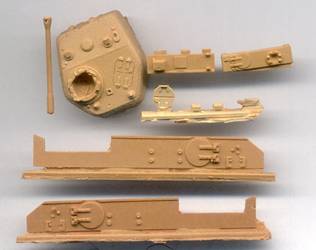 Many years ago I was fortunate to acquire some 1/72-scale Churchill Mark VII conversion sets for the ESCI (now Italeri) Churchill kit from Alain Levesque of LEVA Productions. The conversion has about nine parts cast in tan or pale green resin. I have heard of comments in the past about LEVA's resin being slightly sticky but this has never been a problem with the completed and painted model. The resin casting is very good and separating the parts from the pour plugs looks to be no challenge.
In the above set we have the 75-mm tank gun barrel at upper left next to the combination cast-welded turret. Right of the turret is the new rear plate and driver's armored plate. Bellow are new left and right side armor plates with round escape hatches that graft onto the plastic kit. Besides the new turret shape, a big change with the Churchill Mark VII is the round side escape hatches and round driver's view port. The commander's hatch is molded open with a separate hatch, a nice touch for a half figure.
I have no instructions for this conversion kit but fortunately do have the instructions for the Churchill Mk VII Crocodile conversion which covers the Mark VII conversion. For a list of LEVA kits and ordering information see here.

Set 72C05, Churchill Mk VII Crocodile Conversion
The Churchill Crocodile is a flame thrower variant based on the Churchill Mark VII tank.

The exploded-view instructions for the Churchill Crocodile start at Step-A with assembling the turret, Step-B attaching the new Mk VII front plate with the flame thrower nozzle, then Step-C replacing kit rear plate and attaching the trailer hinges. Step-D covers removing the surface detail from the side of the ESCI/Italeri kit (parts 1 and 15) in order to glue on LEVA's new side plates. Step-E covers assembly of the armored trailer that carries the fuel and propellant.
My references state that the Crocodile was only based on the Churchill Mark VII so we cannot just use the trailer with the Italeri Churchill Mk III or the Dragon Churchill Mk IV kits. Something important here that appears to be missing from this LEVA conversion is the fuel hoses that connect the trailer to the tank! With the proper reference pictures these hoses can be scratchbuilt with thick solder wire.

The LEVA Crocodile conversion has about 18 cast resin parts which includes all the nine parts of the Mk VII conversion (at right) along with the parts for the trailer and the flame gun. The parts are well molded and clean-up does not look difficult.