Before going into any detail, I need to get something off my chest: this truly is a horrible set.
It is supposed to allow you to convert an Academy Jeep into an armored version (with snow chains), give the Academy Kübelwagen desert tyres and convert the Academy Kettenkrad to an Sd.Kfz.2/2 cable layer.
The parts to up-armor the Jeep are ok, but the wheels are an abomination as the tyres with the snowchains just look like tyres with indistinct irregularities.
The balloon tyres for the Kübelwagen are even worse, as they are so roughly cast that the central hub becomes totally irrecognizable.
The Kettenkrad perhaps gets the best deal, because some parts are in PE. To stay in line with the rest of the set, however, all the parts for the trailer were missing except the wheels and fenders.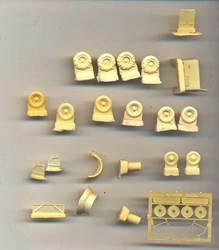 The instructions are a mix of the original Academy instructions with some hand-drawn additions. To add insult to injury, part numbers are mentioned, but the parts themselves don't have any. And while I mentioned that some parts were missing, it seems that there are three resin parts that are not required.
Sample regrettably bought by the author.