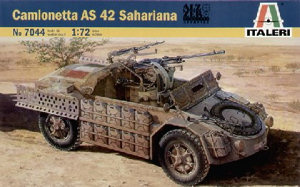 What better for an Italian company to release other than an Italian subject, albeit WWII, with the re-release of the old Esci Italian vehicle kits, Italeri are now expanding on that range with a few new vehicles of their own. Released after the two Esci tanks comes the AS 42 Sahariana, this small vehicle designed for the desert, based on the chassis of the AB 41 (which is also to be released) designed to be run both forwards and backwards this 4 wheel drive vehicle was built for reconnaisance work for the Italian army in North Africa. After the fall of the Italian army in North Africa the vehicle was redeployed to Italy where it still served with the Police force until the 1950's.
The kit comes on one complete sprue,(shown here from both sides) the kit is quite simple in it's construction, but nether the less it is also nicely detailed. All the extra jerrycans for fuel and water for fitting down the side of the vehicle are supplied, but there are those that might wish to replace them as they are not the correct sort for the italian army. The 20mm Breda cannon is nicely represented as is the mount, also included is a MG. Two types of windscreen are included one with a protective cover and one open, the kit supplies the clear acetate for the windows with the instructions giving the correct dimensions for the acetate to be cut for both types of windscreen.
Decals are included for 2 vehicles both from Tunisia in 1943, the Italian flag for over the rear engine used as an aid to recognition will need a lot of softener for it to settle down over the detail there, the more adventurous might want to paint it on. The decals are thin and in register.
A small square of acetate is supplied for the windows, the dimensions of which are given in the instructions.
This is a nice simple kit of a rare vehicle,Although the vehicle was used by the German Fallschirmjaeger both in Italy and on the Eastern front no markings are supplied for these, which is a shame. References on this vehicle are limited to general Italian vehicles books.