T-62
Manufacturer: Italeri (#7006); ESCI/Ertl (#8340)
by Alan Mede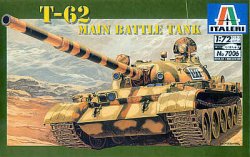 This kit has the link and length track with good detail on the outside but no central teeth on the inner surface.
The road wheels are one piece and really need to have a grove cut down the middle because their large size won't be hidden by the tracks.

One of the most prominent features of Russian tanks is the varied spacing of the road wheels. I checked this spacing by comparing a profile photograph (thanks to ArmorFoto) with the kit hull side and wheels. The last four wheels seem to be a little too far back. The relative spacing is about right and when comparing the left and right side; they are offset as they should be by about a millimeter.

The kit wheels look more like mags then anything else. They are missing the holes and some of the curved webbing near the rim. The front idler is solid where it should be hollow. At least the rear drive sprocket is a good representation of the real piece. The wheels line up with each other so the tracks will be straight.
Even though the box art shows the loaders hatch open, the hatches are all molded closed. The vision blocks are all solid but to be fair; they are also very small. The mantlet has a hint of fabric texture on it but I plan to use paper to replicate the cover that seals the gun to the turret. The sight on the left side of the main gun is represented but the machine gun on the right is missing. On close inspection, the details on the hull and turret are simplified and are represented by geometric shapes; but they are crisply molded. There is a shovel molded onto a fender but no other tools. There is no tow cable or headlight guards provided.
The decals offer 3 different versions but what you get are numbers for a green European or green and sand Syrian machine or a parade marking and nothing else at all. There is no information about deployments or units.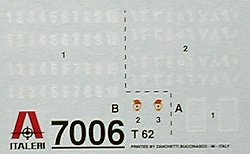 ---