Kit Contents:

The parts are molded in a hard butterscotch coloured plastic. Quality is quite good with little flash and only minor seam lines to deal with. Also included is an instruction sheet outlining 11 steps to follow for construction and a small decal sheet of decals.

For the AB 41 (kit no. 7051) there are 68 parts and for the AB 43 (kit no. 7052) there are 71 parts. The sprues for both kits are almost identical with the major differences coming in the tires, muffler and turret. They share common body parts, wheel rims and most of the ancillary parts like the main gun, jerry cans & pioneer tools.
Common Construction Points:
For both kits, construction pretty much followed the steps outlined in the instructions. Fit was excellent throughout with only a few major issues to be addressed. Injector pin marks are well placed for the most part. There is a set inside the wheel wells that are most difficult to get at. There is also a set of marks that sit proud of the frame and make adding the side panels a bit trying if they are not removed.

There are two spacers (part 49A) to go between the hull halves (parts 22A & 23A). I found that they actually spread the hull halves too far apart making the joining of the hull parts more difficult. So these were discarded and I built up the hull without them.
The rear sway bar is a separate piece but I can't figure out why the same was not done for the front sway bar.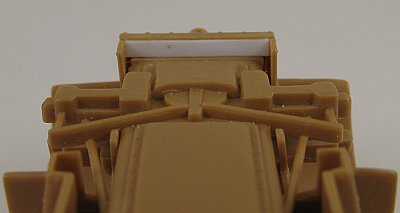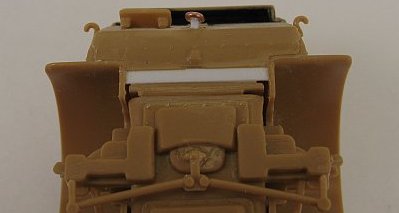 After placing the body on the frame I discovered there were gaps between the body and frame at each end. These were covered over with some sheet plastic.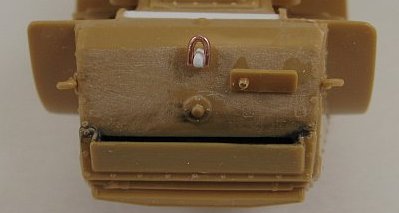 I replaced the molded on rear tow hook with a scratch built item made from some plastic for the mount and a loop made from some copper wire. I drilled out the opening for the exhaust pipe, turret gun barrel and the horns. The foot step rungs (part 13A) located below the rear doors just needed some thinning to look more acceptable.
In my opinion Italeri are currently in the fore with regards to out of the box decals, and these are a prime example as to why I believe this, with all images being in register, opaque and very thin. I used the kit decals for both builds and they proved to be excellent as expected. A few applications with some decal solvent such as Microsol got them to conform nicely to the model while their opacity blocked any chance of bleed through of the colours underneath.