HäT's latest entry is another version of the Sherman tank, this time, a late-hull, 76mm M4A3. As is typical with this company, the kit is well researched, and scales out perfectly well to 1/72nd scale. It is a wargamer's kit, with very few parts and easy assembly. But it can also provide a good basis for static display modelers to use for upgrade and conversion projects. The hull correctly represents a mid-series version of the big-hatch, wet stowage hull design. There is some indistinct detail on the front hull plate, such as lift rings, headlight mounts, and the gun travel lock. All of these can be easily replaced by modelers wanting more and better detail. The rear hull lacks any sort of detail, which is beneficial, so there are no tools and other such items to be sanded off.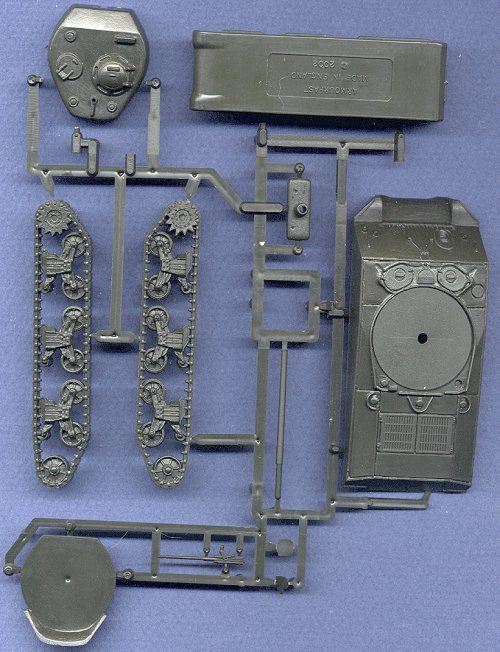 The wheels have again been improved from their previous M4-chassis kits, with the majority of the missing wheel mass behind the front lip having been restored (those of you with the M10 kits will know what I mean). The tracks are still a little simplistic, but look fairly decent when painted.
The turret is shaped and sized very well, but there are two things that stand out at me: the periscope in front of the commander's hatch is a bit too wide (shave off about a millimeter from each end) and the loader's hatch sits too high. HäT has informed me that the hatch will be corrected for future releases. When this hatch is closed, it should sit flush with the turret roof. Once again, the gun barrel is molded perfectly straight (though without the screw cover at the end), and the machinegun is very nicely done.
As with all the other HäT kits, I recommend this one to all wargamers and others who are looking for a simple, but accurate, Sherman to add to their collection. With just a little bit of extra detail work, this model will look really nice.
Thank you very much to HäT for providing the review kit.