1. Packaging:
Small sealed plastic bag.
2. Type of kit:
Resin conversion kit for the Airfix kit (but will probably fit other kits with minor adjustment). No decals.
Very limited production run.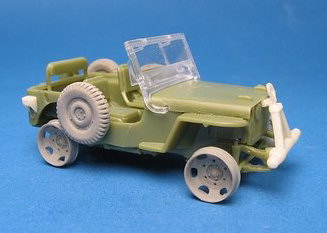 Picture by FBMinis, used with permission
3. Quality:
Casting quality is very good, with parts on a thin carrier film (as usual for resin kits). Minimal clean-up is to be expected.
4. Contents
The set consists of 4 railroad wheels, 4 attachments for the wheels on the hull and a tow bar + stowing attachment.
5. Instruction sheet:
Very minimal instruction sheet consisting of 3 drawings. Together with pictures found on the weblog http://fbminis.blogspot.com/ these should be sufficient for the conversion.
What is not mentioned is that with the parts you can either build
a) a regular wheeled jeep with or without tow bar
b) a railroad jeep with railroad wheels installed and ordinary roadwheels stowed on the hull
c) a railroad jeep with ordinary roadwheels installed and railroad wheels stowed on the hull
6. Decals and painting options:
Nihil. There is one picture of the real vehicle on the weblog.
7. General Impression:
Very good
8. References
Nihil, apart from the info found on the FBMinis weblog.
With thanks to FBMinis for the review sample.