This model is one of the oldest in the Extratech's catalog, dating from 1997, and it's also one of the most extensive and expensive in their multi-media range. The kit includes 3 photo etched frets and 13 resin parts.

The PE comprises the pieces to build the radar's dish and the stairs and handrails for the control cabin access. The pieces are nicely detailed showing the distinctive perforated braces that compose the parabolic dish structure, but, due to the flat nature of the PE, the tridimensional characteristics of the frames are not represented. Stairs have some nice anti-slip surface although their handrails would look better replaced with wire.

The resin pieces are cleanly molded and are attached to squared blocks. These parts represent the radar's control room, the arms that hold the dish, the lower structure that support both the arms and the cabin, and the base that carries the whole array. The control room has no interior and for that reason the instructions tell you to cover the windows from the inside with a paper or plastic sheet. The lower structure is also simplified lacking detail compared to the pictures available on the internet.

Instructions are clear and have 10 steps. PE pieces are shown in their assembled position, this being especially useful when assembling the complex structure of the antenna.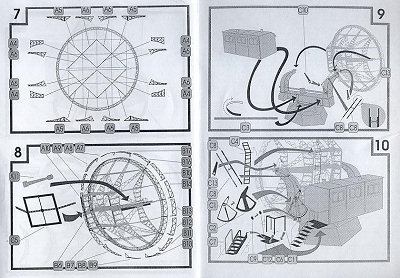 Another fault in the kit, besides those previously mentioned, is the absence of the mesh screen that covered the antenna's inner side, though this could be easily fixed with woven mesh.