Light Tank Mk. VII Tetrarch
Manufacturer: ExtraTECH (EXM7210)
This is actually one of the very first Extratech kits I bought many years ago. It has sat on my shelf neglected for many years, so I recently pulled it out and started cleaning up some of the resin parts, and then realized that I never posted a preview of the kit, so here it is . . .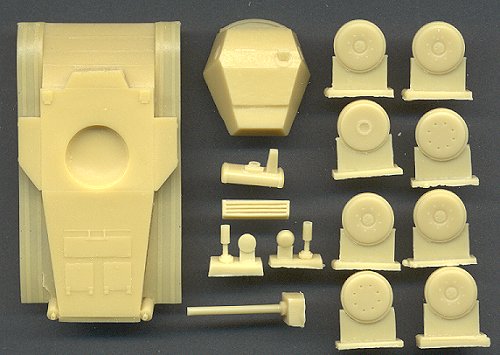 I've already removed the resin blocks from the turret bottom and hull front, as well as the gun mantle. As you can see, everything is molded quite cleanly, with excellent detail, and no imperfections. My only complaints are the lack of rivets on the hull and turret, and the wheels could have been a bit thicker. As can be clearly seen on the box cover photo, the center part of the wheels was very convex, with very pronounced bolt heads. The bolts are present here, though they are a little subdued, and the wheels are a bit too thin, but it shouldn't be too noticeable on the completed model. Being a solid body kit, all hatches are molded shut.
The chassis is over-simplified. The bottom hull on the real tank is much narrower than depicted here, with complicated suspension arms for the wheel axles. Though admittedly, this will hardly be noticeable when complete. This kit does have a few other things missing however. Such as the spare fuel drum that was attached to the rear hull, very similar to the layout of modern Soviet tanks. Also missing are the teeth on the sprocket wheels, and the framework assembly often seen on the turret rear for the antenna mount (it is barely visible on the box photo). This would have been easy to provide in etched brass.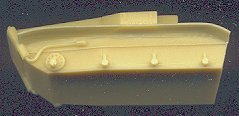 The brass fret is mostly taken up by the tracks, which are to be formed from a double layer of brass. While I think that the final tracks will look superb, and with a scale thickness, I am concerned about the ease of bending the tracks to shape around the wheels, after the two layers are super-glued together. It may be necessary to bend them to shape before gluing the layers together. Also seen in the scan below is the front hull plate, because the resin mold was tapped into on the nose, so this area is sanded smooth, and the detail needs to be provided in brass. Other minor details are also included in brass. Notable items missing, however, are the braces for the front fenders. The rear fender braces are included, but not the front.
Markings are included for two versions. They are very thin, and printed in register.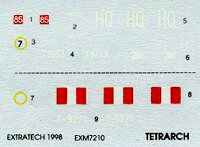 Even with the missing details, I would still recommended this kit, as it will look really cool when built.
---