Morris Mk. II Armored Car
Manufacturer: ExtraTECH (EXM7218)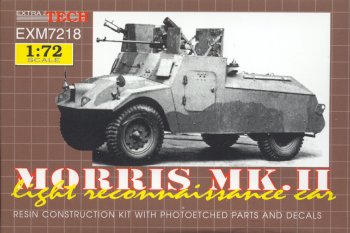 Another superb model from ExtraTECH. As usual, the resin is of extremely high quality, with no air bubbles or other imperfections. The turret needs to be removed from a rather large mold block, but the hull has only a couple of attachment points at the rear. There is very fine rivet detail on the hull and turret, but I don't think that there are enough of them, and they could be a bit more pronounced.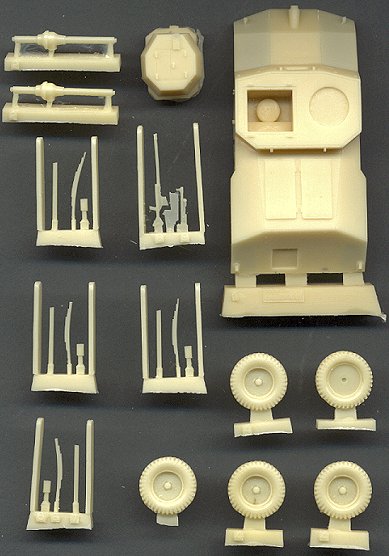 The lower hull and chassis are very well-detailed.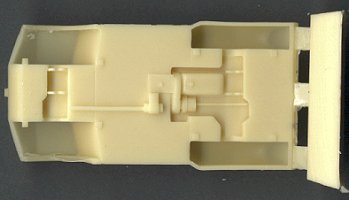 The front visors and side doors are molded closed, but there is an opening in the top of the hull for the Boys AT rifle station. The hatches are made from brass, and there is a small pedestal inside for a figure to be mounted on (figure not included), but other internal detail is non-existant. If no figure is placed in the hatch, some carving work will need to be done to open up the interior a little more.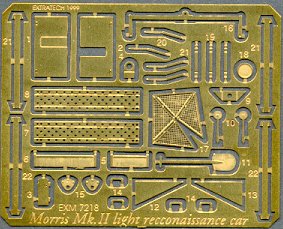 The brass parts are typical Extratech high-quality.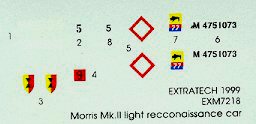 The decal sheet is very well done, with markings for two versions: one Mark I and one Mark II. According to the instructions, the only difference between the two marks was in the front axle, which can't be seen, so this kit can build as either Mark. The decals are very thin, but the blue was printed slightly out of register. There are some white decals in the upper left which did not show up in this scan.
This is a highly recommended kit, as are all ExtraTECH models.
---