Dorchester AEC 4x4
Manufacturer: ExtraTECH (EXM7206)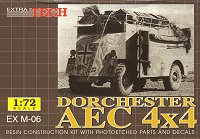 What a huge block of resin this is! The Dorchester is a mighty unusual vehicle, and Extratech has given us an awesome kit of this famous command and control truck. There seems to be a theme running through several of Extratech's releases, including this kit, plus the Afrika Korps Radiomen and Erwin Rommel and Staff figure sets. They will combine to make a really cool diorama.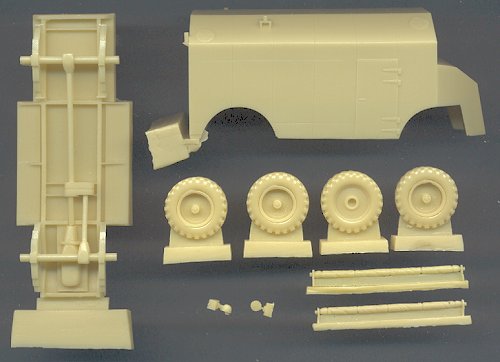 The kit is very simple, with only a few large resin pieces, which are all very well cast. The detail is very subtle, yet distinct enough so that a good wash and drybrushing will make them come alive. However, the main body is missing the numerous rivets that were present all over the hull. All of the doors and windows are molded closed, which is fairly disappointing; but when you consider the molding and casting process, it is difficult to figure out a way to have molded them open, without making the entire body out of photoetch. The hull is not solid, but the walls have been reinforced on the inside to prevent warping of the resin. Judicious use of a motor tool will allow one to open the doors, if scratchbuilt replacements are made.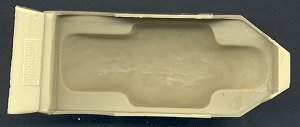 There are several brass parts, including the fenders, hatches, aerial framework, and other details. Much of the aerial would be better represented in 3-dimensions, so I'll replace mine with plastic and brass rod when I build it.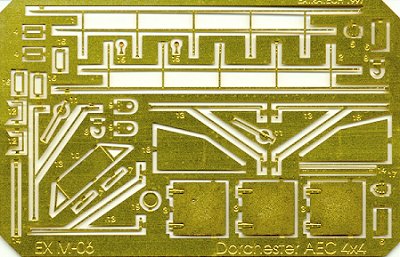 The decal sheet is very comprehensive, with markings for two versions, including the one captured by the Germans and used as Rommel's personal command vehicle. The decals are very thin, and printed in register.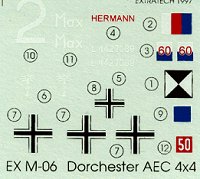 This is a highly recommended kit, as are all ExtraTECH models.
---