Lanz Bulldog 30hp Tractor Preview
Manufacturer: ExtraTECH (EXM7225)
Sort of an unusual kit to release, but I must say, this little thing is a sweet kit.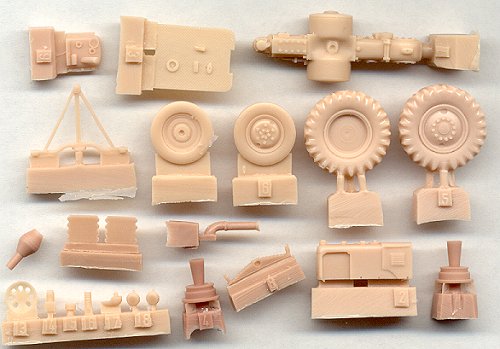 It is a very tiny model, with the parts scan above actually showing the parts larger than real size. The resin is fantastic, with only a couple of tiny bubbles along the bottom of the main engine block. Everything is remarkably detailed.

The brass parts are also very well done, providing very thin sidewalls for the driving compartment. The engine controls will need to be thickened some with glue, or replaced with plastic rods. Two marking options are included: one civil, and one military.
Despite the many small parts, this should actually be a fairly quick and simple model to build. The very nice instructions will certainly be appreciated.
Thank You to Extratech for providing the review sample.
---