BA-64
Manufacturer: ExtraTECH (EXM7203)
One of Extratech's earliest kits, this is also one of my favorites, and I'm kind of disappointed in myself for not having built it yet. It's always been at the top of my "to do" pile, but review kits always get in the way of completing this one.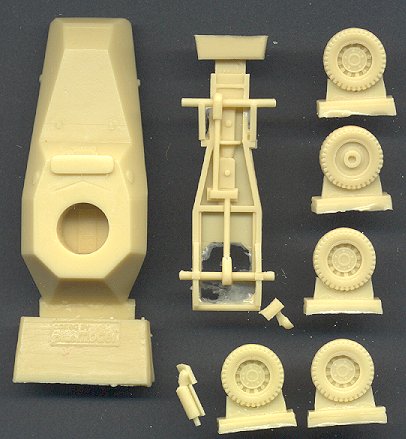 Another very simple kit, it should go together quite quickly. The undercarriage is molded as a single piece, so axle alignment won't be an issue here, which is a plus. The hull is molded solid with closed doors and visor. There is a cavity in the hull beneath the turret which will allow for the inclusion of a figure if so desired (not included).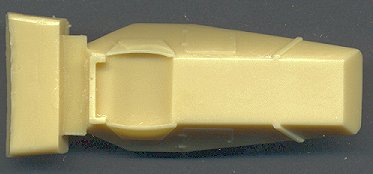 The turret is made from brass, so it will have very thin walls. The fenders are also brass, which will allow for careful bending and crushing, if one wants to represent hard wear and tear. The rear engine intake is included as an etched piece, because this area on the hull is where the resin was poured into the mold, and consequently will be sanded smooth. The machinegun is included in brass as well, composed of three layers which should look fairly good if the barrel is rounded a bit with some glue.
Markings are included for three versions, including one captured by the Germans. They are very thin, and printed in register.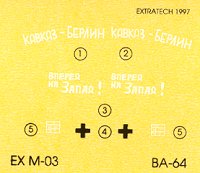 This is a highly recommended kit, as are all ExtraTECH models.
---