AEC Mk. II/III Armored Car
Manufacturer: ExtraTECH (Kit #7227)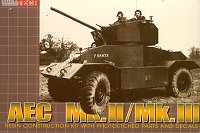 Extratech seems to specialize in armored car models, and I am glad they do, because otherwise we would likely not see kits of these vehicles. This is an outstanding kit of a really cool vehicle. The kit allows you to build either the Mark II or Mark III, with the difference being the main armament.
As always, the resin casting is top-notch, with no airbubbles or warped parts. There is a very sensible breakdown of parts into resin and brass pieces. If I had to make a suggestion for improvement, I would say that having a hollow turret with open hatches (and figures) would be nice.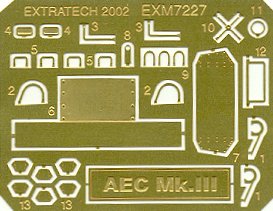 The decals are incredibly well printed, and in perfect register. I also like the very colorful choices of markings, because armor models are typically very plain, and the khaki drab color of this car is certainly no exception. Adding a bit of color to the project will make it come more alive. Markings are included for three Mark III's. The instructions are first-rate, as always. But note that the color information has been screwed up somehow, with the colors not matching the letters used to identify them. Also, the unit information has also gotten turned around, and you'll find the correct information on the side of the box.
This is a beautiful kit, and I highly recommend it.
Thanks much to Extratech for providing the review sample.
---