Jagdpanther
ESCI Kit 8009; Aurora/ESCI # 6216; ESCI/Revell # H2323; ESCI/Ertl # 8312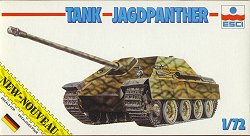 This has always been one of my favorite ESCI kits. When Revell released their Jagdpanther kit a couple of years ago, I thought it was the end of the useful shelf life for this particular kit, but that turned out not to be the case. Since the Revell Jagdpanther scales out much closer to 1/76th scale, this ESCI kit is still the only Jagdpanther in 1/72d scale.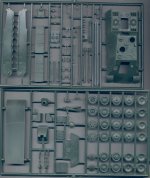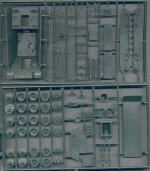 Since it is such an old kit, one might think that it is very obsolete, but that's not so. Considering its age, this kit was way ahead of its time. The detail throughout the entire model is fantastic. Some highlights include:
a rough, cast-iron texture to the hull,
all hatches are open, including the engine access hatch and rear ammunition loading door,
pioneer tools molded as separate parts,
periscope covers which are molded open (but periscopes should be added with plastic card),
an excellent commander figure,
a positionable hull mounted machine gun,
and an overall superb level of detail, such as bolts, hinges, handles, etc.
One thing I do not like is the four-piece gun barrel, which takes a lot of work to clean up. Also, compared to the Revell Jagdpanther, this kit does not give the modeler anything in the way of options for different versions of the vehicle. As boxed, this kit represents a fairly late version of the Jagdpanther (with exceptions). The Revell kit beats this one by giving optional parts (although not always compatible with the Ausf.G2 engine deck and other features). Perhaps some of the smaller details from the Revell kit, such as mufflers, engine fans, gun mount etc, may be used on this kit to back-date it. That's something I'll look into.
And speaking of versions, this kit presents us with an odd amalgamation of vehicle features from early, mid and late production vehicles. The gun and mantlet are very late-production, the muffler arrangement is a mid-production style, and the engine deck is the same as a Panther A, which was used for early and mid-production Jagdpanthers. Also, the pioneer tool stowage as depicted in the instructions is for an early vehicle. Luckily, with the tools molded as separate parts, it's fairly simple to arrange them in any manner you choose. I haven't researched this vehicle real extensively for period photos, so I'm not sure if such a combination of features as depicted in this kit actually existed, but it may be possible. Otherwise, some creative kit-bashing with the Revell Panther G kit should allow the builder to make a decent late-production Jagdpanther.
Regarding kit dimensions, it is about a millimeter too wide, and a millimeter too long. Both within acceptable error for me.
Depending on which boxing of this kit you have, the tracks can vary from poor to lousy. The one-piece vinyl tracks are simply lousy, but in this case, the hard plastic, link and length tracks are not a whole lot better. They lack any sort of detail whatsoever on the inner surface, including track link hinges and guide teeth. But all things considered, they are still better than the vinyl tracks. Note that if you are considering replacing the tracks with a set from a Revell Jagdpanther or Panther kit, that's not so easy. The Revell kits do not have enough teeth on their sprocket wheels. Consequently, the track links are too large, and there are fewer of them per track run than on the real vehicle. Since this ESCI kit has the correct number of sprocket teeth, the Revell tracks will not fit the sprocket wheels. Perhaps one can simply cut off the sprocket teeth inside the track (which I would probably do anyway), and the discrepancy may not be immediately noticeable.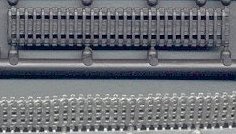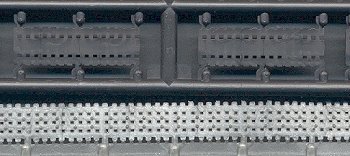 I assume that like other ESCI kit, the decals can be highly variable, depending on which manufacturer boxed the kit. I believe that the different releases of this kit included different marking options. Most ESCI decals I have seen tend to be fairly thin, with matte carrier film, but seem to be chronically printed out of register. Luckily, some of these markings are single color, so that's problem is minimized in this case.
Eduard produced a set of etched brass detail parts for this kit, but like this kit, that set is long out of production. Do not confuse the new Eduard Jagdpanther detail set for the old one, as the new set is designed for the Revell kit, and many of the parts will not fit this kit.
All in all, this is an excellent kit, well before its time in detail and engineering.
---