I wanted a quick build "test bed" that I could focus on getting my hand back at some finishing and weathering techniques, and this seemed to fit the bill. I'd practice techniques using this subject, before carrying them over to the other builds I had on the go. The result is that, even though this was started first, I actually completed a few other subjects before I decided I should finish this one, to get it off of my workbench.

One of DML's "Armor Pro" quick build kits, it consists of 46 parts, including the two one-piece DS tracks. This design approach has led to details such as pioneer tools, and jacks being integrally molded, at the cost of some component fidelity. The side stowage bins are also open on the lower surface under the fender, which allows a view into hull if viewed from a low enough angle. This is easy enough to fix with some strip styrene, for those inclined to do so.

The moulding quality is a bit of a mixed bag. Some detail is on the vague/soft side, like the aft turret doors, while some details like the tiny perforations on the muzzle break are exquisitely represented.

The tracks are fairly well detailed but the ones in my kit were significantly deformed at the sprue gates, making them unusable. In my opinion, the use of rubber (e.g. DS) for this type of long linked track, doesn't really capture the correct lay of the tracks, particularly as they travel around the small diameter forward idlers. I ended up borrowing a set of link and length tracks from a UM BT series kit, which although not entirely accurate, was the best I could come up with. The crossfit was a bit problematic, but the compromises were well hidden. Also of note, is that the groove between the two piece forward idlers are a bit shallow. Probably not a problem for the flexible DS guide teeth, but required some modification to the guide teeth on the hard plastic UM track links.

No other fit issues were noted during assembly.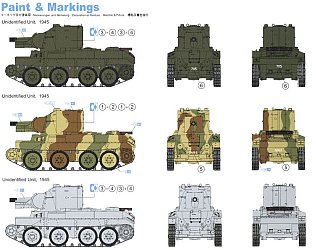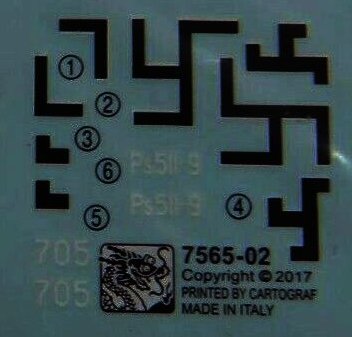 There were three marking options; one overall green (H32), one overall light grey (H51) and one three toned (mid-green (H80), mid-brown (H47), dark yellow/tan (H402)). The schemes with "approximate" Gunze color references, are provided on the back of the box. I went with the overall green scheme and blended my own colour which I felt was a better representation of a faded gray/green.

Decals generally behaved well, being fairly thin with good opacity, and registration. When applied in conjunction with some Microset, they "floated" nicely which allowed some time to position and align them. The vehicle number settled well on the forward and aft hull. Dragon has broken each of the Finnish hakaristi (hook cross) marking into two parts, assumedly due to its resemblance to the Nazi swastika, which remains outlawed in a number of countries. This created some issues, as the edge of one part of the decals needed to conform over the large protuberance on the side of the turret. A fair bit of Microsol/Mircoset along with gentle persuasion was required to get it to eventually conform.

Finish was accomplished with Gunze Hobby Color acrylics. Humbrol enamels were used for washes and rain streaking. Mud and dust applied using Mig Pigments. Rust was replicated using a combination artist oils, and AK weathering pencils.
Review sample purchased by the author.
Dragon products are available at