OK, I am going to admit up front that I only bought this kit to use for spare parts. For those of you who have read my earlier review of Dragon's Panther G, you'll know that I don't like these Panther kits, primarily because of the die-cast hull. I feel that the hull is pretty much useless. Sure, maybe someone else could put in the man hours needed to make it look half-way decent, but that's more effort than I care to invest in a model, when there are better alternatives available.
Here are the parts from the Panther G which are also included in this kit:
The sprue of parts to the right is loaded with good stuff. Pieces for the Panther; for the Jagdpanther; spare gun barrels; optional engine deck details; all sorts of neat items.
Now here are the new parts for the Panther F:
The steel wheels are fabulous, and are the main reason I bought this kit. They're worth the price tag alone.
When I built my Panther F back in 1999, I kit-bashed the Hasegawa Panther F turret and wheels with the Revell Panther G hull. At that time, I thought that the Hasegawa F turret was pretty decent, though needing a couple of tweaks here and there. Compared to the new Panther F turret included in this Dragon kit, that Hasegawa turret is pretty sad. This new turret is fantastic. I don't have any use for it at the moment, but it is fantastic. Why couldn't they have treated the hull to this same level of effort?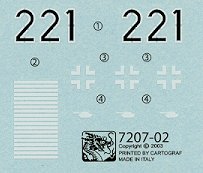 And finally, the decal sheet provides markings for only one tank, but since this is completely fictitious anyway, that's OK.