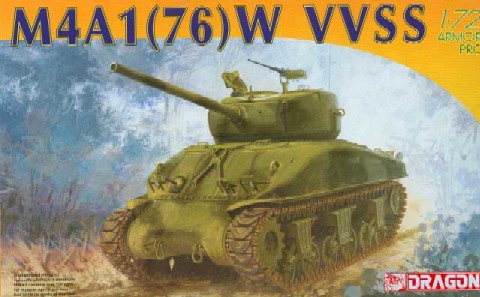 This is the kit the Italeri one should have been, already released by Trumpeter at a much cheaper price, but this is worth the extra as are all Dragon Shermans, if not only for the amount of spares the Dragon kits provide.
the kit utilizes the same lower hull as the earlier M4A1 Normandy kit, but provides a new upper hull with the later style drivers and co-drivers hatches. Although a new upper hull is provided and Dragon have replaced the missing filler cap the hull is still missing the sand shield attachment strip along the lower edge of the hull.
Other than the hull and the turret, the kit uses the same sprues as provided in the earlier kit, plus the one sprue that is common to all Sherman kits conatining the plastic light guards, AAMG and other small fittings for the hull.
The turret is the same as used in the M4A3 76 (W) kit, with the exception that it now provides 3 barrel types, the plain 76mm, the 76mm with screw cap fitted and the 76mm with muzzel brake fitted. Dragon also provide the transmission housing and rear from the M4A3 kit, this is because the kit uses the M4A3 transmission instead of the earlier M4A1 housing.
The suspension is the same as provided in other kits, and has the straight return rollers.
The tracks are the rubber chevron type.
The PE fret is similar to the other PE frets only this time there are no PE front fenders provided
Dragon have provided a length of twisted wire for the one applaud this as it is more realistic than the plastic provided by some companies.
Markings are given for 5 vehicles 4 U.S and 1 polish although the vehicler could also be put into British service as the Sherman IIB although I have never seen any pictures of it in use, for those who want something a bit more challenging how about the Sherman IIC Firefly mounting the 17 pdr ?
The U.S vehicles shown all sport a camouflage scheme the Polish version is all green.
A lot better detailed than it's Trumpeter counterpart, this is again another top of the range Sherman from Dragon and is highly recommended.
References
M4 Sherman in Action Squadron/Signal Armour No 16
Tanks in detail Medium Tank M4 (76mm&105mm) Sherman and Firefly by Terry J, Gander