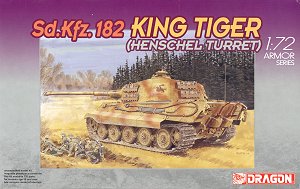 So apparently Dragon is beginning to listen to modeler's feedback. This kit represents in my opinion, their first really nice model. There are a few features that I think could still be improved upon, but the same can be said of almost any manufacturer. With this release, I think that Dragon has finally entered into the ranks of decent small scale model makers.

The main hull is provided in plastic; in fact, the entire kit is plastic, which is certainly what we have all been asking for since their earlier cast metal-hulled kits. It looks as though the mold for the hull has not been altered at all from when casting the metal kits, but they simply used plastic as the casting material instead of metal. Consequently, the hull has a very "heavy" feel to it, with very thick and sturdy walls. This poses no problems, except for wanting to open up the hatches. The radio operator's hatch is molded open, but with a screw alignment hole inside, which may need to be removed (though it might provide a good mount for a crew member's bust). The driver's hatch is closed, though a spare hatch is provided if the modeler chooses to carve open the hull.
One of my few complaints about this kit is the molded-on tools. Everything is molded onto the hull, and no spare tools are included. Luckily most of the tools are on flat, easily accessed surfaces, so removing them should be no difficulty. There are two holes needing to be filled on the hull bottom. With the overhanging fenders, it will be difficult to mount the wheels and tracks. Sometimes the "advantage" of molding the lower hull all as one piece is not much of an advantage at all.

Like the Panther kits, the King Tiger provides a flat insert beneath the engine deck to allow some engine detail to be visible beneath the ventilation grates. The main engine access hatch is molded open, but I don't feel that the flat "engine" is really adequate to be viewed with an open hatch. Perhaps someone will soon provide an engine set for the King Tiger. We seem to have a plethora of available kits to use with it. Several spare parts are included, though not to the extent as with the Panther kits. The spare track links are very nicely done.
The wheels are absolutely gorgeous.

The turret is also very well done. There are a couple of options here, including an armored ventilator cover, and the choice between early or late gun mantlets. All turret hatches are open, including the rear loading hatch.
I don't like the tracks, though others probably will. They are nicely detailed, though slightly twisted, and considering their width, I think it will be difficult keeping them from bending in half as they wrap around the sprocket wheels.

Dragon has even included a small fret of etched brass engine deck screens. Very well done. But ... what about the mesh, anti-mine grates beneath the turret rear? Why are those still in plastic? Is a job half-done better than not done at all?

The decals are simply superb. Dragon has progressed from their earlier pathetic, single-choice markings, and have skipped completely past mediocre to excellent. Markings are included for four [almost] complete vehicles, plus with a bonus sheet of numbers allowing the modeler to build any vehicle from the 505th Heavy Tank Battalion. But as you can see, only a single pair of crosses are included, so you'll need to raid your spare decals box to use these extra markings on other kits. Although these scans are poor, the decals are printed extemely well, and in almost perfect register.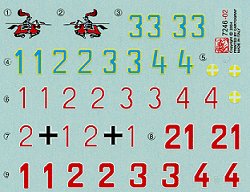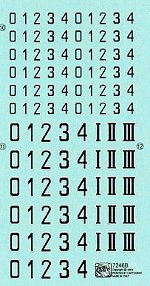 How does this kit compare with the other two King Tigers on the market? I think it beats the Italeri kit, and it is neck and neck with the Revell kit. It has a couple of advantages over the Revell kit (they are almost identical in shape and size, with this Dragon kit being just a hair longer than the Revell), but for me the important deciding factor is the tracks. For those of you who like vinyl tracks, you should love this kit.