The third release from Dragon using the same hull, as with their 1/35th kits dragon make the most of their moulds by changing one bit with another to produce a different variant, although it might seem boring for us at times in the long run it is good for us, while it makes good business sense to make the most of the moulds, it is good for us in that it makes the moulds more cost effective and cheaper in the long run, maybe this is why Dragon are releasing so many kits one after the other.
The hull and front plate are the same as used on the Hornisse and Nashorn kits, the lower hull is a correctly extended PzIV hull and correct in details. The front plate has both circular hatches open and the drivers visor on the raised drivers portion is also open.
Sprue A is also the same as used on the Hornisse and Nashorn, also on this sprue are the final drive housings, two drivers visors the rear doors of the fighting compartment the rear hull plate and the exhaust outlets, although these are also provided in PE the plastic ones are quite passable.
Sprue B is also the same as previous kits, contains the floor plate,exhausts and rear compartment plate
Sprue E is specific to the Hummel, contains a new gun mount, ammunition bins, parts 12 and 11 are for the late version.
Sprue G is the 150mm gun, the break down is the same as the 88's just bigger, this is the same gun as the ACE 72218 s.F.H 18 Schweres Feld Haubitzer only better.
sprue H contains the Sprockets and idlers
The kit also comes with two new brackets for mounting the travel clamp on the hull front, and two pieces of wire bent to shape for the Spare wheel holders on the rear plate.
The tracks are Dragon Styrene, longer than those supplied in the Hornisse kit, so there shouldn't be a fit problem, the tracks although flexible, glue with normal model cement and take paint very well, and are nicely detailed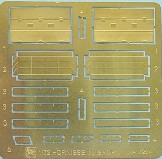 The PE is the same as provided in the Hornisse
Decals are supplied by cartograph and are in register an very thin, Markings and schemes are provided for 5 vehicles.
A nice kit, better than the Esci variant it seems to be correct in details and shape, sizes out well to 1/72nd scale according to my references.
REFERENCES
Hummel - tornado books
Hummel, Nashorn Brummbaer - militaria 16
Hummel - Nuts and Bolts Vol 10