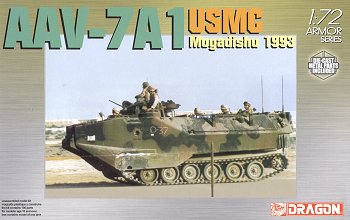 My local model shop so rarely carries any small scale armor, that when it does, I can't seem to resist the urge to buy it. Even knowing ahead of time what this kit would entail, I somehow felt the need to shell out the cash for it. I guess I'm just a glutton for punishment.
Actually, I think my standards for Dragon kits are so low, that I am no longer completely turned off by the brand. Despite knowing that they are nowhere near as good as Dragon wants us to believe with all their hype, most of the kits (though not all) are tolerable models, including this one.
As expected, my main disappointment with this kit is the cast metal hull.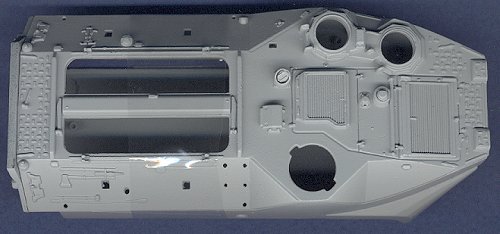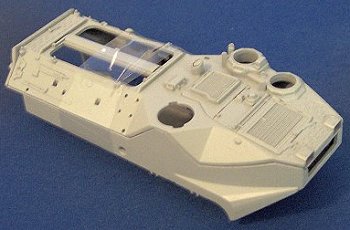 The molded-on detail is fairly soft, and the tools are some of the poorest I've seen on any new kit. But what attracted me to this model was the open hatches. One of the main reasons I don't like metal hulls is the difficulty in opening the hatches, which is not a problem here, though there is absolutely no interior detail. The seam where the upper and lower hull parts meet is very thick, and will require extensive filling and sanding. Luckily it is mostly on flat and easily accessible surfaces, so this shouldn't be too difficult.
The remaining parts of the kit are in plastic, and though I like them better than the metal parts, they are not nearly as finely molded as the plastic parts in other Dragon kits. It seems as though Dragon has several different design teams working on their kits, and some appear to be better than others. The wheels look pretty decent, but for some reason, Dragon always seems to do pretty good with wheels.
The wheel torsion bar assemblies are plastic parts that are inserted from inside the hull to the outside. I suggest gluing these plastic parts to the metal hull using a lot of superglue, because this model is heavy, and once it is closed up, if these parts come unglued, they are going to stay that way. Unlike most other Dragon kits, this one has some unsightly ejection pin marks that will need to be dealt with.
I admit that I am not overly familiar with this vehicle, but the small amount of detail parts to be glued to the hull seems a little strange. Due to its amphibious nature, I assume that there won't be a whole lot of stowage kept on the hull, but there probably should be a little more detail than is seen here.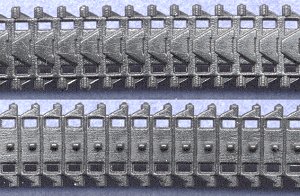 Although the tracks are similar to those in the Bradley kit, the tread pattern is slightly different. Again, because they are soft vinyl, a lot of superglue will be needed to keep them stuck to the tops of the wheels.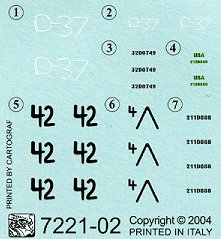 The decals are nicely done, with markings for two vehicles of the USMC in Somalia, 1993.