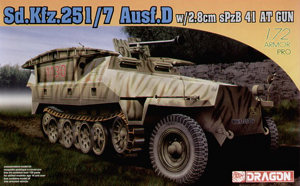 Dragon Keep releasing a steady stream of kits this is the D ausfuhrung of the earlier ausfC PionierPanzerwagen, with the exception that it includes a neat little 2.8cm sPzB 41 AT gun, this was a gun developed along the lines of the Geurlich squeeze principal where the round was squeezed out of the gun, the barrel instead of being parallel all the way actually decreased in diameter towards the muzzel of the gun causing the round to fly at a very much increased velocity thus increasing it's penetrating power. The kit is broken down the same way as the earlier C with the newer hull top and rear for the D version.
The lower hull is the same as the the other 251 series.
The wheel sprues are the same as in the the rest of the series and although I keep saying it include two of the best KwK98 in this scale, almost worth buying the kit just for these, however the rest of the kit is just as nice. The interleafing wheels for the track come joined together, with just the outer ones being seperate. Some people don't like this but once assembled it can not be seen even with the tracks off, unless you want to model it in some extraordinary way.
The second sprue contains the rest of he suspension and parts for the drivers compartment and steering.
The third sprue contains the parts for the Bridging equipment and the holders, there are two of these sprues,
The fourth sprue is for the sPzB 41, the double shield is done part in plastic and part PE, although the plastic parts semm a little too thick and could do with a bit of thinning out, it is a shame that not all of the ground mount is included as it would be nice to model the gun away from the vehicle as well. All in all it is a fine rendition of the real thing with some finely moulded parts.
The fith sprue contains the upper hulll and rear doors along with the floor plate and other bits for the drivers compartment and the rear troop compartment.
The kit has two parts for the roof over the driver one for mounting the sPzB.
The PE shields for the gun are very nicely done
the second fret includes other pates noticibly just the one number plate
The tracks are the usual DS plastic and are well done and look good on this vehicle.
3 sets of decals are included, one for the number plate markings and tactical/unit markings, the second is specific to the kit and the third is a set of generic german markings of crosses and numbers.
As with the other 251 kits this is a nice kit and builds without any problems.
References
SdKfz 251 in Action Sqn/Signal Publications
SdKfz 251 Half-Track 1939-45 by Bruce Culver and Jim Laurier, Osprey New Vanguard 25
SdKfz 251 Militaria 012
Schuetzenpanzerwagen War horse of the Panzer Grenadiers by Horst Scheibert, Schiffer Military History
Die Halbkettenfahrzeuge des Deutschen Heeres 1909-1945 by Walter J Spielberger Motorbuchverlag