Recently, First to Fight released a kit of a long neglected vehicle, the SdKfz221. I immediately started building the kit, but found myself unable to live with the closed meshes for the engine and the turret. Diligently, I started drilling out all the holes, a few each day, to keep my sanity. I got about halfway through the process when Dan Taylor released this set, which solved the issue in a single stroke (and made all my work in vain).
As I will be using the set straight away, I will keep my appraisal in this preview very short.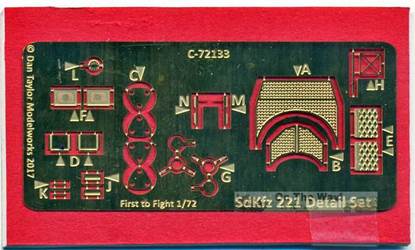 All parts are very well rendered, and apart from the already mentioned meshes, the modeler gets visors for the turret sides, covers and pressure valves for the wheels, treadplates, light guards, licence plates, turn indicators, stowage box lids, a horn and a pennant holder. This should be more than enough to give the FtF kit a thorough facelift.
Preview sample purchased by author.
Dan Taylor Modelworks products are available at