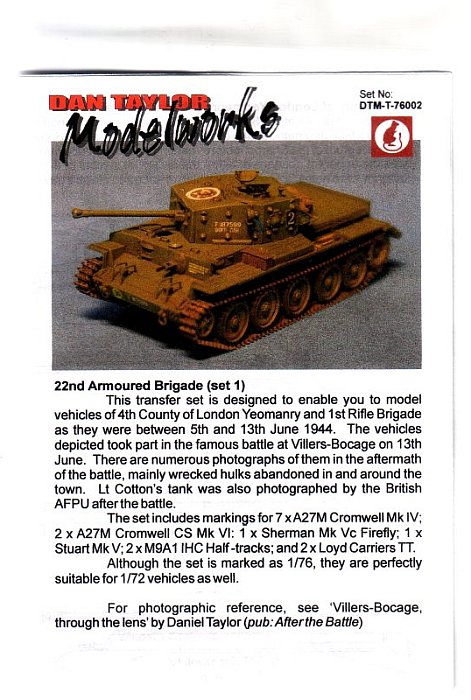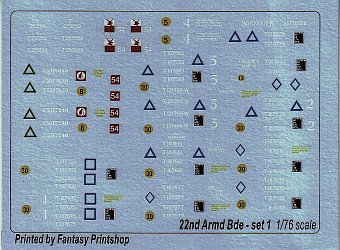 According to this set's preamble: "This transfer set is designed to enable you to model vehicles of the 4th County of London Yeomanry and 1st Rifle Brigade as they were between the 5th and 13th June 1944. The vehicles depicted took part in the famous battle at Villers-Bocage on 13th June."

There are supposed to be markings for 15 vehicles. I could only identify markings for 13 vehicles in the instruction sheet as per below:
M9A1, Z-5517659, No.2 Platoon, A Company
Loyd Carrier TT, T-253561, 1RB Support Company
Sherman Vc Firefly, T-212728, "Alla Keefek", No. 4 Troop, A Sqn
Cromwell IV, T-121766W, No. 3 Troop, A Sqn
Cromwell IV, T-187577, RHQ Troop
Cromwell IV, T-187583, No. 3 Troop, A Sqn
Cromwell IV, T-187599, "Shufti Cush", A Sqn, No. 2 Troop
Cromwell IV, T-187608, RHQ Troop
Cromwell IV, T-187675, No.1 Troop, B Sqn
Cromwell IV, T-187692, Troop Leader RHQ Troop
Cromwell VICS, T-187661, SHQ, A Sqn
Cromwell VICS, T-187756, SHQ, B Sqn
Stuart Mk. V, T-213697, Recce Troop, RHQ Sqn
A comparison between the vehicles listed above versus what is stated on the instructions, the missing vehicles are for one Loyd Carrier and one M9A1. It is probable that the two omitted markings are on the decal sheet, but it would take a process of elimination to find them, something this reviewer did not perform, and even then the modeller still has the task of identify to which vehicle type they belong.

As the instructions state, these are scaled for 1/76 models, but they are should work quite well with 1/72 scale kits. Decals are printed by Fantasy Printshop. Colours are bright and register is spot on. Opacity appears to be excellent and the film is very thin. Each image is on a separate transfer film from the others. There are a lot of images crammed onto the small sheet, so care will be needed in cutting them from the paper. On some of the Cromwell IVs, the white troop numbers have black backing squares, which are not on the decal sheet, so it is up to the modeller to make these.

As for the marking's accuracy, I can only state that Dan Taylor is meticulous in his research, so I expect these to be quite accurate, especially when one considers that he is using his own published book ["Villers-Bocage, through the lens", Daniel Taylor, After the Battle, 1999 ISBN-10: 187006707X ISBN-13: 978-1870067072] as his primary reference.

Preview sample supplied by Dan Taylor Modelworks.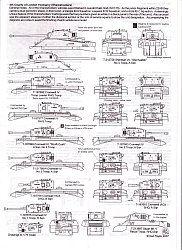 Dan Taylor Modelworks products are available at