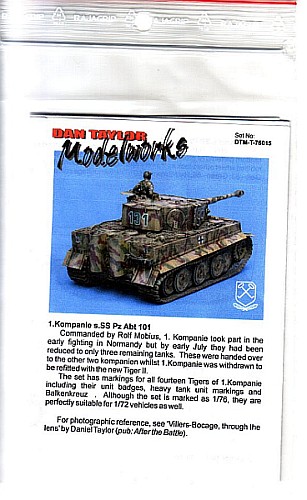 In the package there is a 10.4cm by 7.7cm sheet of markings and three 21cm by 30cm pages of printed instructions. Historical information consists of a brief summary plus two black and white period photographs of a pair of knocked out Tiger Is from this unit. Unfortunately they are a bit on the dark and blurry side, so picking out detail from the pictures is rather difficult.

Transfers cover markings for all 14 Tiger Is of the 1st Kompanie along with their vehicle commander's name. Decal images include 28 unit badges (white panzer rhomboids & double key in shield unit emblems), 42 tank numbers (green numbers with a thin white outline) and 28 balkenkreuz (black & white crosses). Included is an extensive guide on what markings go where, and a legend mapping out the details for each Tiger, things such as gun sight type, main gun muzzle brake style, the placement of spare track, and modifications to the zimmerit for displaying the unit markings. Of the 14 tanks depicted on this sheet, half of them are based on some form of photographic evidence, another five are stated to have photographic evidence that may be obscure or of another Tiger, and the remaining two I assume are speculative.

There is a list of suggested kits, all in 1/76 scale for which this decals set is intended. I would venture that the size difference between a 1/76 and a 1/72 scale Tiger I should not affect their suitability for use on a 1/72 scale kit.

The transfers are first class and printed by Fantasy Printshop. Obviously done using silk screens and ink, the images are sharp, in register and individually backed on very thin transfer medium. The inks appear to be very opaque, especially the white portions and I doubt very much that they'll allow darker camouflage paint to bleed through and alter the colours.

The instructions also have your standard decal application instructions, a camouflage/paint guide, and a method of simulating zimmerit employing scribing and liquid plastic cement.

I'm in no way a Tiger expert, nor an expert of German tank units in Normandy, but to me this appears to be one superbly printed and researched decal set.

Below are examples taken from the set for one of the fourteen Tigers, number 111.
| | |
| --- | --- |
| | |
| | |
| Instruction sheet markings excerpt 1 | Instruction sheet markings excerpt 2 |
Review sample supplied by Dan Taylor of Dan Taylor Modelworks.