I recently received a package from Ken Overby, the owner and founder of CPL Overby's Motor Pool, informing me that his company, which has been dormant for some time, is now back up and running. He included a couple of review kits for me to post on the site, and this one here is of the Stug. III Ausf. A. As far as I know, nobody else makes a 1/72nd scale kit of this tank in plastic or resin.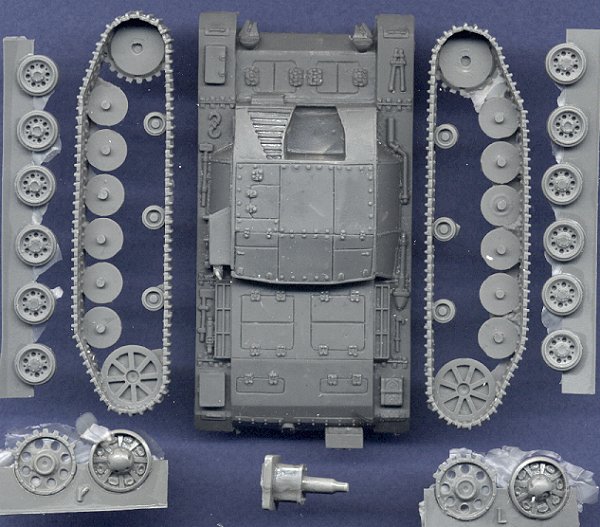 At first glance, this seems a kit most suitable to wargaming, considering its simplicity. All you have to do is attach the wheels to the tracks, and the tracks to the tank, add the gun, and it's finished. I've looked over the main hull carefully to determine if this was converted from an existing plastic kit, but if it was, then it's a kit I'm not familiar with. I am very impressed with the details on the hull, with all the plates and hinges molded with excellent relief. Unfortunately, all hatches are molded closed, but considering they are flat plates, it should be easy to carve a couple hatches open and make replacements in sheet plastic. Most of the tools molded onto the hull are nicely done, though I'm not real happy with the shape of the shovel. But in fact, the layout of the tool storage does not match the drawings of this tank in either of my references (see below), so most of them should probably be removed and replaced anyway.
According to my references, the size of the kit is pretty accurate to this scale, being about 1-1.5mm too short in each dimension. The hull details specific to this version are accurate, with two exceptions: there should be a pair of large storage boxes on the rear fenders, one on each side, where you can currently see the jack block on the right, and a storage box (too small) on the left. Also, there are a pair of circular transmission inspection hatches on the lower glacis plate (not visible in this scan), which as far as I can tell, were only present on the 0-series prototypes of this vehicle, and they were removed for the Ausf. A.
I am very impressed with the wheels. The road wheels and tracks appear to be copies of the ESCI kit parts, though the sprocket and idler wheels are new, and very nicely done. No decals are included, and neither are any instructions, though none are really needed.
All in all, I am quite impressed with this kit, even considering its simplicity.
Thanks much to Cpl. Ken Overby for providing the review kit.
References:
Achtung Panzer # 5 - Sturmgeschütz III, Stug. IV and SIG.33, by Bitoh
Panzer Tracts No. 8 - Sturmgeschuetz, by Jentz and Doyle
Sturmgeschütz & its Variants, by Spielberger