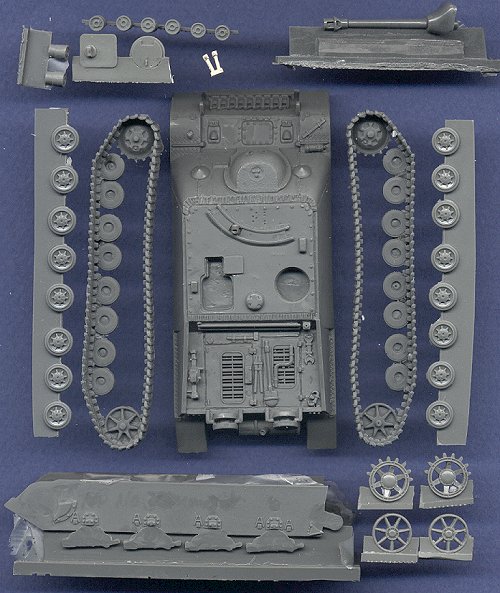 Although the kit title does not reflect it, this kit represents the trial series of the Panzerjäger IV. The primary distiguishing feature of this version is the rounded corners on the front of the fighting compartment. I'm not sure how many actually saw service. Jentz states that "a few" were built in late 1943. Mucha and Parada maintain that the pre-production series had an L/43 cannon with no muzzle brake, but the two photos included in Jentz clearly show a cannon with a muzzle brake, but I have no idea how long it is.
Based on the drawings in the two references listed below, this kit scales out perfectly to 1/72nd. It looks as though the body of the vehicle was based on the old ESCI Jagdpanzer IV kit, but it is heavily modified. All the details seem to be appropriate for this version, except is it lacking pistol ports on the sides of the superstructure, and the lower corners of the gun base plate should not be cut off, but rather they should be squared. The wheels appear to have been taken from the Hasegawa Jagdpanzer and look very good, as do the tracks, which I think were originally Revell.
Of the three photos I have seen, two of the vehicles had zimmerit applied, and the other did not, as in this kit.
All in all, a very nice kit of an unusual vehicle.
Thank you very much to Cpl. Overby for providing the review kit.
References:
Photosniper #6 - Jagdpanzer IV L/48, by Mucha and Parada
Panzer Tracts No. 9 - Jagdpanzer, by Jentz and Doyle
Encyclopedia of German Tanks of World War Two, by Chamberlain and Doyle