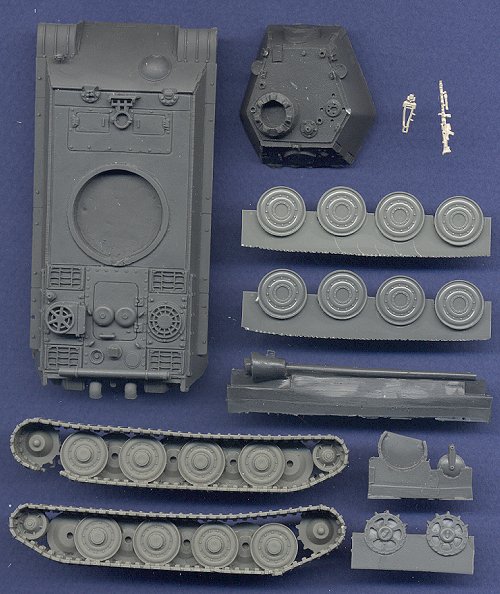 Continuing with the theme of experimental German tanks of WW II, CPL Overby has sent in this kit of the Panther F. The Panther F was basically a late-war Panther G hull with the "schmalturm", or "small turret".
This kit is a kitbash of several different models. The hull is modified and improved from the Hasegawa Panther, as are the steel wheels; the tracks are from the Revell Panther; and the turret appears to be an original piece, the same turret as included with the Panther II kit, though with the long 7.5cm cannon. It also shares the same height discrepancy at the front of the turret, which can be fixed by adding a spacer (about 2mm thick) on the bottom of the turret front, and smoothing it back towards the rear, in order to level the turret height. Although the hull crew hatches are closed, the commander's hatch is open, which is a nice touch for a resin kit.
As with Overby's other kits, this one is very well molded and simple to build. Some of the parts are on very thin resin carrier film that will be easy to clean up. There are only one or two air bubbles I've seen on the hull. The track is broken on one side, but the missing piece is in the kit bag, so it will be easy to fix. I am especially impressed with the nice AA machinegun and mount, which are cast in untreated silver (although I think the bipod mount should be removed from the MG).
I've noticed the trend for this line of kits as being very detailed, but extremely simple kits to build, which should make them equally appealing to wargamers and static display modelers alike.
Thank you very much to Cpl. Overby for providing the review kit.
References:
Achtung Panzer # 4 - Panther, Jagdpanther & Brummbär, by Araki (ed.)