Sd.Kfz. 251/20 Ausf. D
Manufacturer: CMK (Kit No. 72001)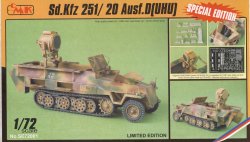 And so it has begun. Since the release of the Hasegawa Sd.Kfz. 251 kits three years ago, I had hoped that we would eventually see a wide variety of versions for this very ubiquitous vehicle. Hasegawa has given us only three, and we are now beginning to see some after market items as well.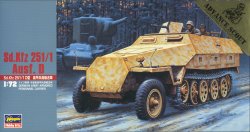 The very large and sturdy cardboard box actually contains a complete kit (box included) of the Hasegawa Sd.Kfz. 251/1 (click on the scan above for preview of that kit). There is a new set of excellent instructions with painting guide. No new decals are included; only the original Hasegawa set. Several photos of the completed kit on the box cover will make good references for the complicated searchlight assembly.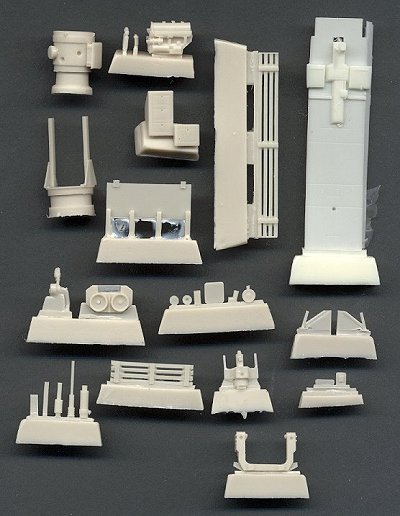 The resin parts are extremely well made, as to be expected from this company who has made many, very high quality, resin detail sets for aircraft models for many years. There are no molding imperfections, very little flash, and superb detail. As you can see, the entire infrared spotlight system is included in resin, as are a complete engine, a new floor for the fighting compartment, and many other details.
The extensive etched metal sheet is very well done, and produced by Eduard. There are new hull side storage bins with positionable doors, positionable rear compartment doors, positionable engine access doors, and many other details.
This is a fantastic kit, and I look forward to CMK's forthcoming combi-sets; I know that they have several more planned.
---