Good tracks can enhance a good display model, bad tracks can turn a great model into a mediocre one. For me this has been the major problems with the old ESCI (now Italeri) Pz III and Pz IV models and the Hasegawa Pz IV models kits. These are basically good smallscale model kits with unrealistic, simplistic track. The old ESCI kits had stiff polyethylene plastic that resists glue, later supplanted by styrene link & length tracks lacking good guide horns (track teeth) and inside link detail. The Hasegawa Pz IV tracks appear to originate from Hasegawa's old Munitionspanzer kit from the 1970s and is particularly poor in detail.
CMK (Czech Masters Kits) has taken a different approach to aftermarket 1/72-scale tracks in molding them from a soft plastic, very similar to that found in Hasegawa, Mirage, Dragon smallscale kits and other manufacturers.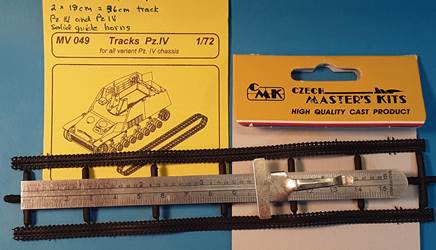 The tracks come enclosed in a small plastic box and have rudimentary instructions. Clean-up is easy with a sharp blade and don't forget to trim off the little nubs from the mold and sprue.
There are two lengths of track, 18 cm long each for a total of 36 cm of track. That will be enough for a Pz IV tank with about a centimeter or two extra to cut off and have available for spare tracks mounted on the bow of the tank. There is enough for a Pz III and StuG III with even more spare track.
I have used this track several times with Hasegawa Pz IV models and they look good. I had to shorten them by a cm and hid the ends under a roadwheel. Cyanoacrylate (Super) glue worked satisfactory and paint adhered well.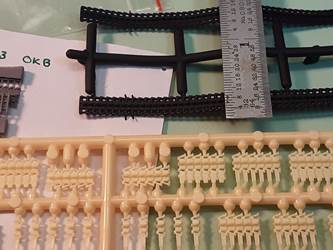 In the photo above, the CMK soft plastic track is compared to the hard styrene track by Maco. Detail on the inner and outer surfaces of the CMK track is good. Quality of detail is not on par with the resin OKB Pz III/IV track, but this soft plastic medium is a lot easier to work with than the cast resin. The guide horns (track teeth) are the solid type.
Being a soft plastic and a little stretchy the track is forgiving when wrapping it around the sprocket; it will stretch and fit in with the sprocket teeth.
On the outer face we can see some ice cleat, thread detail. On the inner face we see accurate link detail.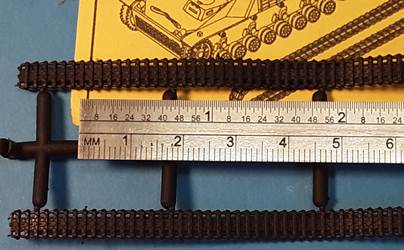 The CMK 1/72-scale track represents 40-cm tracks (Standardketten) and is suitable for 1/72-scale middle and late-war Pz III, Sturmgeschütz and Pz IV model kits. I highly recommend these tracks for the ESCI Pz III, Hummel, Brummbar, Wirbelwind, Jagdpanzer IV and Pz IV kits, the Hasegawa Pz IV and Ostwind kits, the TP Models resin StuG III, StuIG33, Jagdpanzer IV/70 models and old Attack Models plastic Pz III and StuG kits, and others.
This track accessory was purchased by the modeler.
This model can be purchased from