This set is a little more expensive than CMK's other figure sets, due to the inclusion of the turned brass and etched panzerschreck. This is a beautiful piece! The turned rocket tube has the wire detail on the rear end integral with the tube; I can't imagine how they did that. The etched parts are very nicely made, and this rocket launcher will look amazing when assembled.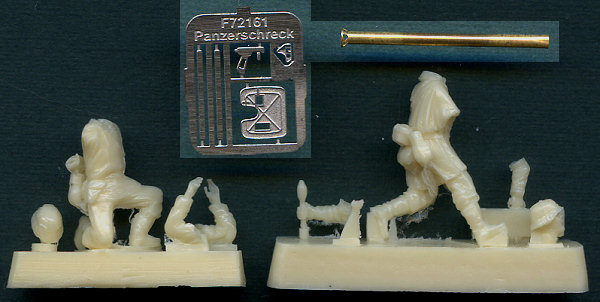 The gunner is molded in a pretty standard firing pose, on one knee ready to shoot. The other figure on the other hand, I feel is in a fairly silly pose. He is carrying an ammo box in his left hand, with a loose rocket in his right hand, yet he is obviously jogging or even running, which doesn't seem to make much sense if the other guy is ready to fire. I think it would have been better to have the second guy also in a kneeling pose, either loading or getting ready to load another rocket into the launcher.
But that is a rather minor gripe. The sculpting and casting of these figures is fully up to CMK's fine standards. The clothing, which to my untrained eye appears to be appropriate for Waffen SS troops, is nicely formed, with realistic folds. Other details of the soldiers' kit, and their heads/faces are also very well done. A dissappointment, however, is that although the artwork shows the support soldier with a rifle slung on his back, no rifle is included with the set, which is an unfortunate oversight.