The Lancia Ro, powered by a German engine developed for aviation (the Junkers type 89, produced under license) was the Turin manufacturer's first diesel truck. The Lancia Ro was first used during the conquest of Ethiopia in 1935-36. The 228 vehicles sent on this theater in April 1936 were able to move everywhere in all temperatures, and encountered no difficulty on mountain routes. During the march on Addis Ababa, the 136 Lancia Ro were the first to arrive in the Ethiopian capital on May 5, 1936, after 16 days of travel. The Lancia Ro was then used in Spain. Between May 11 and 24, 1938, 900 Lancia Ro took part in the major maneuvers in Libya, where the model was deemed reliable, easy to drive and requiring little maintenance. During the war, despite the arrival of the Lancia 3Ro, it was used on almost all fronts, frequently as an artillery tractor or tank transporter. On the Russian front, the Lancia Ro were mainly used for the transport of mules and horses.
I am happy to see that GB Modelli has started protecting their kits with a sturdy cardboard box, while previously they were sold in simple, unprotected plastic bags.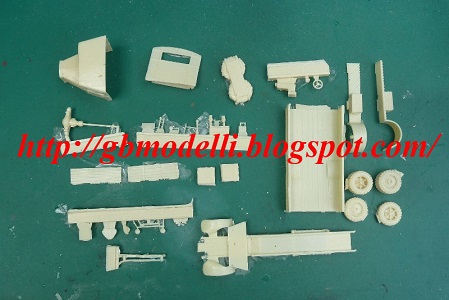 The parts are very crisply molded, with quite a bit of flash, which is something you must expect from limited-production resin kits; being very thin, it can be easily separated form the pieces. No warping, no pin-holes and minimal attachment blocks. The resin is soft enough to be easily cut with a sharp hobby knife without splintering or excessive effort. All the most important elements are present and recognizable, althought the final model is very small: some scratchbuilding abilities are requested, since some parts must be provided by the modeller, such as the trasparent part for the windshield.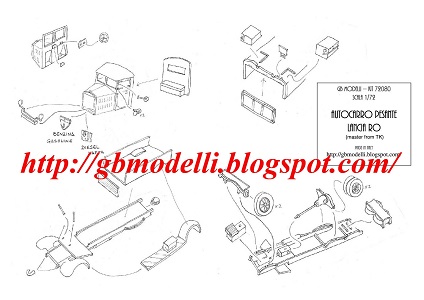 The assembling instructions are the typical GBModelli style drawing on paper.
Thanks to Georgio Briga (GB Modelli) for the review sample.
GN Modelli kits can be purchased from