These removable ramps were specifically designed for loading/unloading M-serie tanks (M13/40, M14/41 and derivatives) from the Viberti trailer, so that their width was precisely matching that of the M-serie tracks.
They must be paired with the Viberti trailer, which GB Modelli sells as a separate kit. Together, they look a good complement to the M13/40 which is produced by GB Modelli.
I am happy to see that GB Modelli has started protecting their kits with a sturdy cardboard box, while previously they were sold in simple, unprotected plastic bags.
The parts are very crisply molded, with quite a bit of flash, which is something you must expect from limited-production resin kits; being very thin, it can be easily separated form the pieces. No warping, no pin-holes and minimal attachment blocks. The resin is soft enough to be easily cut with a sharp hobby knife without splintering or excessive effort.
The model is well-engineered, so that it is possible to build it in loading/unloading state and in transport mode.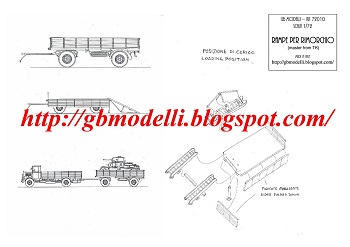 The website of GBModelli has a page where pictures of the real trailer with ramps are shown, which will further ease construction.
Reference
Carri M di A.Talillo, A.Talillo e D. Guglielmi, GMT, 2010
Thanks to Georgio Briga (GB Modelli) for the review sample.
Briga (GB Modelli) products are available at