The 15 cm Kanone 16 (15 cm K 16) was a heavy field gun used by Germany in World War I and World War II. Guns turned over to Belgium as reparations after World War I were taken into Wehrmacht service after the conquest of Belgium as the 15 cm K 429(b). It generally served on coast-defense duties during World War II.
I am happy to see that GB Modelli has started protecting their kits with a sturdy cardboard box, while previously they were sold in simple, unprotected plastic bags.
The parts are very crisply molded, with quite a bit of flash, which is something you must expect from limited-production resin kits; being very thin, it can be easily separated form the pieces. No warping, no pin-holes and minimal attachment blocks. The resin is soft enough to be easily cut with a sharp hobby knife without splintering or excessive effort.
The model is well-engineered, so that only a limited amount of scratchbuilding and adding details is needed.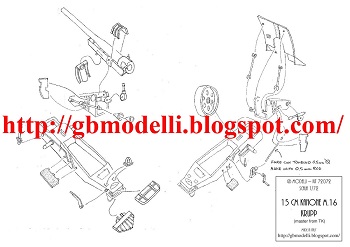 The website of GBModelli has a page where pictures of the real gun are shown, which will further ease construction.
Thanks to Georgio Briga (GB Modelli) for the review sample.
Briga (GB Modelli) products are available at