The self-propelled 47/32 gun (Semovente da 47/32) was designed by mounting the standard anti-tank Cannone da 47/32 M35 inside an armored, but open-top superstructure built over the L6/40 light tank chassis.
After having produced the regular, Italian version of the vehicle (kit no. 72017), GB Modelli is offering the version in German service. It is quite an interesting vehicle, because it was extensively used by Wehrmacht and SS divisions, as well as some German allies.
In fact, the Wehrmacht captured 78 regular Semovente L40 da 47/32, 8 platoon commander vehicles, and several company commander vehicles. They were adopted into service as the Sturmgeschütz L6 mit 47/32 630(i), Kommandowagen L6 630(i) and Panzerbefelswagen L6 770(i). In addition, production of these obsolete vehicles continued. 74 more regular SPGs, 36 platoon commander vehicles, and 10 company commander vehicles were built on German orders in late 1943 and early 1944. These SPGs were useful against partisans, which is why the majority of Sturmgeschütz L6 vehicles were sent to the Balkans: for instance, the 14th Police Tank Company received 20 SPGs, while the SS units stationed in the Balkans (the 105th tank battalion and 7th mountain division) received some more vehicles. A small amount of Sturmgeschütz L6 (likely without cannons) were used to tow Pak 40 and Pak 43 anti-tank guns. These vehicles were called Kettenschlepper L40. A small amount of Semovente L40 da 47/32 were used by the Italian Social Republic armed forces. The Germans also gave 62 Sturmgeschütz L6 vehicles to their Croatian allies. Also, two such SPGs that were captured in Yugoslavia were passed on by the 3rd Ukrainian Front to the Bulgarian army. A few more Sturmgeschütz L6 became Yugoslavian trophies.
I am happy to see that GB Modelli has started protecting their kits with a sturdy cardboard box, while previously they were sold in simple, unprotected plastic bags.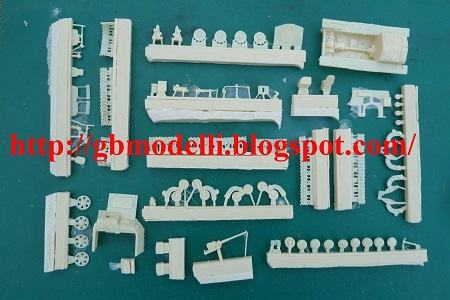 The parts are very crisply molded, with quite a bit of flash, which is something you must expect from limited-production resin kits; being very thin, it can be easily separated form the pieces. No warping, no pin-holes and minimal attachment blocks. The resin is soft enough to be easily cut with a sharp hobby knife without splintering or excessive effort. Due to the open-top design of the vehicle the interiors are visible, and the kits provides an accurate reproduction of the main elements.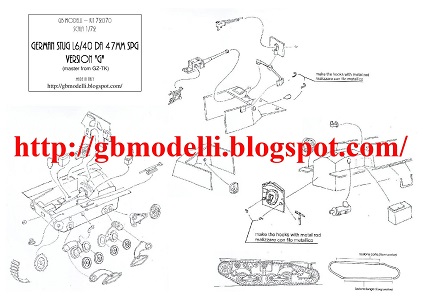 The assembling instructions are the typical GBModelli style drawing on paper.
Thanks to Georgio Briga (GB Modelli) for the review sample.
GN Modelli kits can be purchased from