This extremely interesting construction, which is conceived to be the central element of a diorama, accurately depicts the roadblock Bernardo situated in Arco Felice, near Pozzuoli (Naples). During the summer of 1943, it was defended by a small detachment of italian troops; after the armistice of Sept 8th, the place was occupied by german troops, later re-occupied by italian troops and finally surrendered to the Allies. Therefore, this kit can be used in different settings, involving italian, german and allied troops during the late 1943-mid 1944.
The kit is protected with a sturdy cardboard box, a bit small to hold the heavy, multi-angled resin elements which make the roadblock.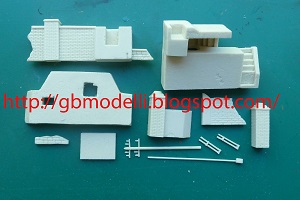 The parts are very crisply molded, with just a small quantity of flash. All the most important elements of the roadblock are present, including some smaller ones.
The assembling instructions are different from the usual GBModelli-style, being in color, with directions on how to assemble the parts and, most important, how to paint some of them, which were covered by white/black strips so typical of roadblocks built by Axis troops.
Thanks to Georgio Briga (GB Modelli) for the review sample.