At the beginning of 1931, the Regio Esercito asked the various Italian automobile firms for the design of a military car with characteristics similar to those of the British Austin 7, which had already been successfully tested. Fiat responded by presenting a militarized version of the highly successful Balilla spider, called 508 M. It could accommodate a third person thanks to the seat in the trunk, in the opposite direction of travel. As a result, the spare wheel (s) were moved into the front fenders.
The Balilla had its baptism of fire during the Ethiopian campaign, with 351 cars, 20 vans and 497 vans for the northern front alone. The Balilla then took part in the Spanish Civil War, where it proved to be resistant and economical, and remained in service throughout World War II.
I am happy to see that GB Modelli has started protecting their kits with a sturdy cardboard box, while previously they were sold in simple, unprotected plastic bags.
The parts are very crisply molded, with quite a bit of flash, which is something you must expect from limited-production resin kits; being very thin, it can be easily separated form the pieces. No warping, no pin-holes and minimal attachment blocks. The resin is soft enough to be easily cut with a sharp hobby knife without splintering or excessive effort. All the most important elements are present and recognizable, althought the final model is very small: some scratchbuilding abilities are requested, since some parts must be provided by the modeller, such as the trasparent part for the windshield.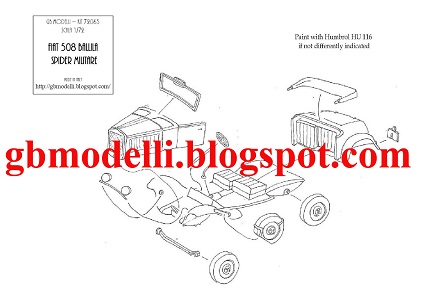 The assembling instructions are the typical GBModelli style drawing on paper.
Thanks to Georgio Briga (GB Modelli) for the review sample.
GN Modelli kits can be purchased from