This kit represents a vehicle that must be one of the more esoteric subjects around. It also means that information about this primitive AFV is generally lacking. What I could find was that the Armored Car Fiat-Terni or Autoblindata Terni (also called Fiat-Libia, Fiat tipo Tripoli or Fiat tipo Libia) was developed late in 1918, based on the chassis of the Fiat 15 Ter truck. It was specifically designed for action in the Italian colonies in Africa. In 1940, 10 Fiat-Terni were still in Libya. A small number were modernized and armed with only a 12,7 Safat HMG machine gun, located in an open top turret.
If this information is correct, then I don't know which version the kit represents as the kit has a closed turret with a single machine gun.
The parts in the kit are very well cast, with no warping or blemishes; only a small amount a flash and a very rare airbubble can be found. One of the latter has placed itself at the extreme end of the gun tube (which apparently I forgot to add to the scan). As the bubble is exactly where the pointy end of the gun is, it is a ready made recess for a small section of stretched sprue with which to settle the matter.
Obviously, the number of parts is very limited (10 in total), which means - considering the quick clean-up - that the kit can be assembled during a coffee break. The simple manual is more than sufficient for its purpose.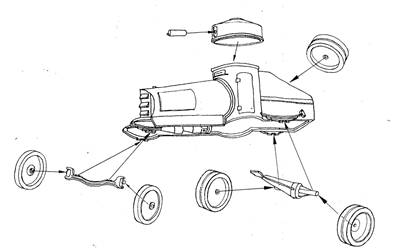 Decals or marking suggestions are not given in the kit, but pictures of the real vehicle can be found on the GB Modelli website.
From those pictures I conclude that some vehicles were armed with a different type of gun (possibly the Safat mentioned above) and had the spare wheel in a different position.
Thanks to Georgio Briga (GB Modelli) for the review sample.
Briga (GB Modelli) products are available at