Opel Kadett Spezial 1938/1939
Manufacturer: Art-Toys Modelbouw Belgium (Kit #GER 005)
By Faustnik
Contents:
22 Parts moulded in good quality yellow resin
A strip of Clear Perspex
A small copper wire
Packed in a transparent box, with a scanned photo of the Model (taken from the Wespe series in 1:35?).
A sheet of assembly instructions
No decals or painting information
Evaluation:
This is the last production from this collaboration between Wespe Models and Art-Toys.
The casting is very good, almost at par with ODEX & AL.BY, without noticeable warping and almost no air bubbles.
The model is only let down by the amount of flash, present in it. You must also remove, with a lot of care, the resin blocks left by the casting process, as always a tedious process.
My model has an air bubble on a rear mudguard and some small damage, due to the removing of the mould, in another. This is easily repaired with Miliput, so that will not spoil the evaluation of the model.
The A4 sheet which comes with the model has some mistakes, as it shows the spare wheel to be glue, when in reality it's already moulded on the rear back, so don't despair, as no part is missing.
I have a small complain about the detail of the wheels, which is very simplistic, but I will live with it (and do some extra-detailing).
Overall:
This intends to represent the rare late 4-door Opel Kadett (1938/40 production) which use the Olympia front, keeping the Kadett typical sides louvres, and their characteristic butterfly side opening. But perhaps a small error has creep during investigation, as the sides louvres are indeed of an Olympia, which will have a alligator type of opening.
But this is not a problem, as by converting/correcting it, you get a Kadett, and leaving it like the kit you get an Olympia, a typical 2-in-1, as both cars were of similar or identical dimensions and profile. For an early Kadett (1936-37 production) you must made a new radiator front, and well the sides louvres.
As a side note, most of the Kadetts and Olympias were made with the 2-door arrangement, and some of them were of cabriolet variant.
While the interior could be considered a little skimpy, you get good seats, even with the lower detail on it, so with some extra detailing and/or some seated figures will improve the model. Another option, is to made the cabriolet version (it's true that most of them were on 2-door versions, but some were made in this 4-door sedan) simply by removing the top, and made the arrangements for the rear hood.
As far as scale is concerned, using the plans from Geoff Lacey - G26 (the Kadett version), this model is at 1:72.
Overall, this is very well done model, with some problems with the flash and removal of the resin blocks, that I will recommend to anyone with an interest in this area, so all thumbs up.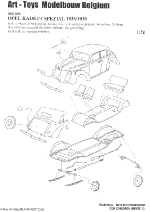 Highly Recommended
---