This diorama set is one of the bigger ones that I have in my collection and it was a bargain to boot. Sadly it seems that it is no longer in production.
The set consists of 3 plaster parts for the walls of the ruin. These are well-detailed with nice features on one side and completely devoid of any detail on the other. These plaster parts are very fragile and one of the walls was broken in my specimen. Being fragile, they might easily be given even more "battle damage" by the modeler.
The ground plate is a massive square part, with very nice features. Sadly, mine was broken into 5 pieces. Being rubble, hiding the seams seems less of a problem.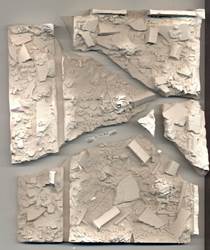 There are no instructions. Then again, none are really needed.