Sd.Kfz. 252
Manufacturer: ARMO (Kit # 72 504)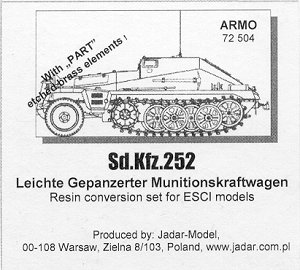 I have long wanted a kit of this vehicle (as well as the Sd.Kfz. 253), and until now, the only available kits were from Al.By, which I have not yet seen. But now, ARMO has given us conversion sets for both of these half-tracks, meant to be used with the ESCI Sd.Kfz. 250. In fact, this 252 kit (and I assume the 253 as well) is based upon a highly modified ESCI 250 hull. To complete the model, the chassis, wheels and other external details are needed from the ESCI kit.
This conversion set includes two pieces of resin, the upper and lower hulls, which are hollow-cast, and have open hatches. The remainder of the kit, which includes the storage compartment interior, and hatches and handles, are photoetched brass, produced by PART.
The quality of the parts is very high. The resin is very sharply molded, and the only air bubble visible on my kit (on the engine access hatch) is actually inside the resin, so a coat of paint will hide it. As to be expected, the brass parts are very well done also. Again, as to be expected, the weak part of the kit is the instructions. The exterior of the vehicle will be easy enough to figure out, but the diagram for the interior brass parts is sorely lacking, and good interior photos of the real vehicle will be highly beneficial.
All in all, a very good kit, and I highly recommend it. I am looking forward to obtaining the Sd.Kfz. 253 some day.
---