9K72 Elbrus / SCUD B
Manufacturer: ARMO (Kit No. 72030)
One of the largest kits I own, this is really a fabulous-looking model in the box. As you can see, it is composed of a great many parts, cast with the typical ARMO high-quality, with only paper-thin flash needing cleanup, and a slightly warped rocket launcher, which should be easy enough to get back into shape. The driving compartment is open with a modicum of interior detail, but those modelers with interior photos may choose to add more. The main body of the vehicle is solid with closed doors and hatches. Molding quality is superb.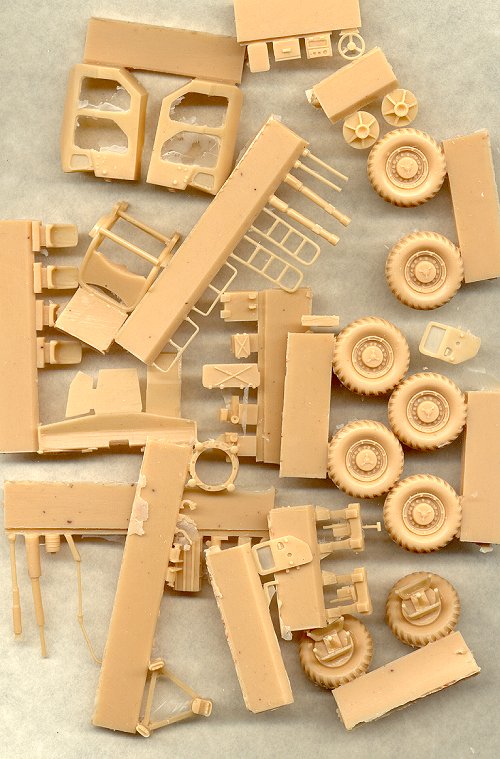 The rocket can be positioned in launch or travel positions.

Early copies of this kit came with only resin parts, but recent releases have included a fret of etched brass detail parts produced for ARMO by PART. The brass parts are primarily designed to replace the resin cabin doors and window frames, with a few other smaller details.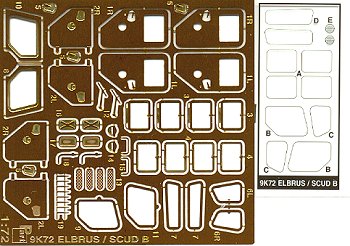 There are no decals included, and although the instructions are pretty good, and better than earlier ARMO instruction sheets, additional photo references will come in handy. I have no reference books to compare the size of this kit to, and not having built it yet, I don't know how easy it goes together. But it certainly is an impressive kit.
---