M2A2 Bradley
Manufacturer: ARMO (# 72032)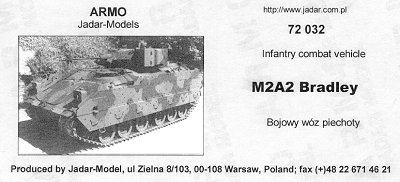 For quite some time, this was the only Bradley available in 1/72nd scale, and despite the release of the Revell Bradley in plastic, this is still an outstanding model, and highly competative with the Revell kit.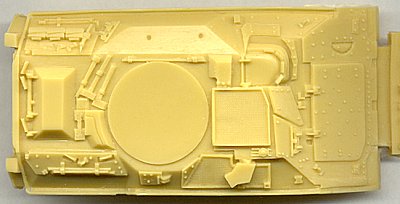 The hull is solid, with all hatches and doors closed. Many of the accessories which come separate in the Revell kit, are molded onto the hull in this kit. But it is molded in very good relief, and this piece is very detailed.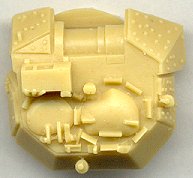 The turret is likewise, an excellent piece.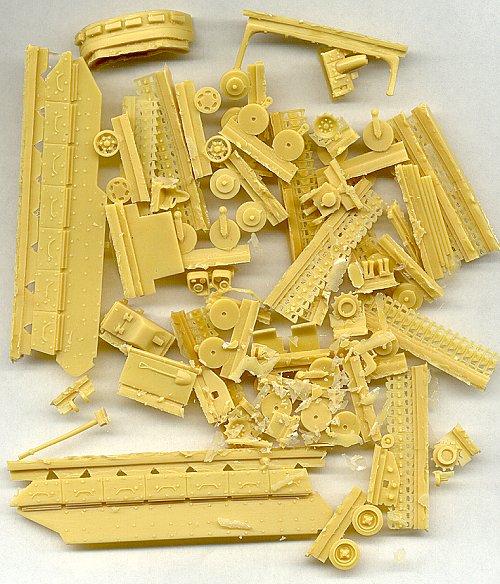 Good luck in deciphering all the parts shown above :) If you can see through all the scraps of resin flash, you'll notice a plethora of parts, not typical of most resin kits, but certainly indicative of the latest releases from ARMO. Although this kit has a hand-made appearance relative to Revell's, it is exceptionally well done, and I look forward to seeing the completed model.
The etched brass detail sets for the Bradley from both PART and Extratech (1, 2)were designed for the Revell kit, but many of the parts will be perfectly suited to this model as well.
As always, the instructions are busy, but should be acceptable, although beginner modelers may do well to look elsewhere. Again, there are no decals included. For those of you with the Revell kit, this won't be a problem, otherwise, we are in dire need of aftermarket markings for this, as well as all other modern AFV's.
This has been a fairly deifficult vehicle to scale, because of conflicting drawings and measurements within my references, as well as different dimensions for the various versions of this AFV. However, I am fairly certain that it scales out very well to 1/72nd, and it is almost identical in size to the Revell kit, being only about 1mm wider.
References:

America's One-Two Punch, by Zaloga
Jane's Tanks and Combat Vehicles Recognition Guide, by Foss
M2/M3 Bradley in Action, by Mesko
---