Camion Renault agk 5 t báché
By Faustnik - jmqtv(at)iol.pt
Manufacturer: AL.BY Miniatures (Kit #858)

Contents:
- 33 Parts moulded in yellow Resin of high quality
- 1x A5 sheet of Scale Drawings/Assemble Instructions of Subject
- Kit Dimensions (assembled): Length 101mm; Width 31mm
- Packed in a transparent box, typical of AL.BY offerings.
- No decals or painting information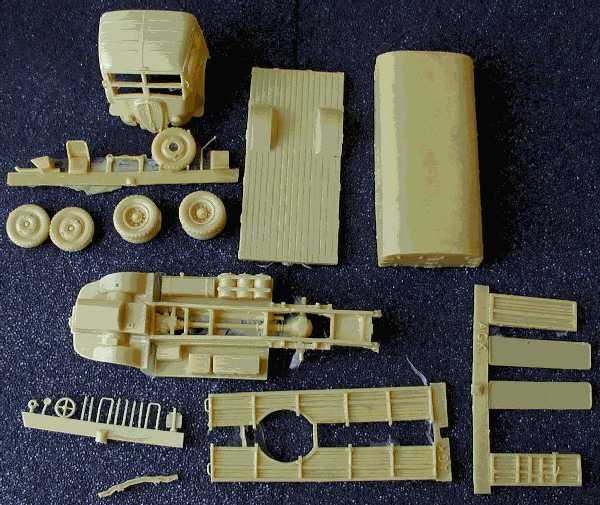 Evaluation:
High Quality of castings and details.
As any resin kit, some cleaning of the parts is needed. Some care in removing small parts from their sprues is also needed. In my specimen there were almost no air bubbles - only a few in the rear mudguards - and no warping of parts.
The interior of the cab is open to some super-detailing, depending of your will, information and skill. Another option is to use a figure of a driver.
It's a pity that the instructions only show the plans of a complete vehicle and only a sketch of the mounting of the rear part of the cargo compartment is available.
Another problem, for some of us, is to fold (using a hot source) the rear mudguards (my solution, in similar situations, was to use an hair dryer, as source of hot air and moulding the part on a round surface). Perhaps a better solution could be found, as on later offerings of this artisan, using photo-etched parts.
Overall:
An excellent choice of subject, as this vehicle could be used almost from 1939 till 1945, in several colours and users:
French Army 1937-1940
Vichy Army 1940-1942 (Europe and colonies in Africa, Middle East and Far East)
German Army 1940-1945 (captured examples, with small modifications, to adapt it to German service)
(re)captured vehicle, in the hands of any allied army, from the Soviet till the Free French
As far as scale is concern, using the data from Bart VANDERVEEN and Geoff LACEY (Scale Plan F 21), the overall dimensions are exactly at 1:72.
Highly Recommended
---